In the US if you want to find TSP it seems like you have to do a fair amount of searching. However, one night while chatting in flashchat.. I ended up doing some searching for my favourite version of the stuff which is made by
DAP
and I found it here
DAP TSP and TSP Substitute
. Also, a real plus.. they have a Dealer locator that is linked to MapQuest. Should be pretty useful for those who cannot seem to get it at ACE or Lowe's etc.
I know you can find TSP the
Savogran
Phosphate free version and others such as
DAP
I guess in NY. And others can probably find it.. but I think what we need here is a little more in depth stuff. I can post url's to manufacturer's web pages to my hearts content, but that doesn't help guys like John who is searching and cannot find it cause the counter staff at the stores he goes to haven't got a clue.....
When you all go to WalMart, Ace, True-Value etc., can you get the company product code or sku? This is the kind of info that would be helpful. Many of these so called sales-people have no clue as to how to find stuff even in their own stores or company computers. There should be someone who you can ask to get the computer listing or where to find it for a person in another city/state
If we can get that from a couple of major store chains, then it would become very easy to be able to add links here to help people find the right stuff.
I sometimes have to search and search for data that I know I have seen on company websites.. and come up fruitless. Saving all this stuff in my Favourites is pointless as it then would become an excersise in trying to find it in my favourites folder which would be HUGE... may as well get a Library of Congress Indexing system going if I did that
Without having a company product code or a universal SKU, then searching on the net at Hardware stores in the US for this stuff will usually result in usless results.. such as --
Search for
Ace Hardware
, then under Cleaning Supplies/Paint - input
TSP
and this garbage comes piling out...
at $8.99 or
at $48.55 -- all of which is NOT what is wanted which is the powdered TSP in the 2lb box if available...
Or God Help Me.. if I go to the
Home Depot
website in the US... and I use the
Cleaning & Janitorial Section
then search for TSP.. I get this garbage
You searched for "TSP". Did you mean top?
.
This is what I mean. I guess it can get pretty frustrating.. I am used to it and it PMOBTB
Now here in Canada.. go to any Home Hardware store, ask for DAP TSP in the 1 Kilo box and tada
You get this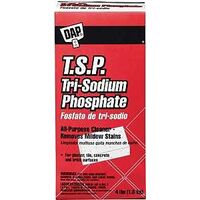 Simple.. I like that
David Bennett wrote:Lowes has it in Va. I saw tsp substitute in Wally world[Wal-mart] But I didnt no if it would work as well
David
David: The TSP-PF, or Phosphate Free version will work quite well, and I am not sure why.. but it does. Not as good as the real stuff, but well enough that Cecil is pleased and so am I btw. The Hiller we put in the tank, I just let dry and it hasn't rusted yet.. so I guess it is good
Another important question seems to be what charger to use. You can use just about any 12volt charger going I guess provided it does not have the automatic shut off feature. If it does, probably as soon as it senses the
"short"
with the current going between the two poles through water, it WILL shut down. Not good if you want your part to get cleaned sometime this century.
I use a cheap charger.. one that is available locally and is reasonably priced. Canadian Tire is kind of a whole Wal-Mart Department in a separate store.. it has lots of interesting and pretty reasonable stuff. Canadian Tire used to be Sears Canada's primary competition, but how Sears is mostly out of the loop.
This is the charger that I use and it current lists at $39.99 and is not on sale. Mine was on sale for $29.99 I think... I was talking to Princess Auto last night, and they are looking into bringing in stuff for our tanks.. such as Chargers, inexpensive booster cable sets and other items.. Going to be fun.. I think.
Motomaster Manual Battery Charger, 6/2A
Unfortunately the links to the Moto-Master Battery Charger no longer work, but essentially, the MotoMaster is a Schumacher, and is available at almost any Battery Shop either in stock or via special order.
Here is one comparable to the one I use that is available in the US - at Northern Tool.
Century Welders Battery Charger — 2/6 Amp, 6/12 Volt
and it is only $29.95US...
And it is not automatic... plug it in and forget it for awhile..
Gary S. has pointed out this particular Charger that he got when he replaced his old Schauer 6 amp model after it gave up the ghost. It looks suspiciously like the Moto-Master I got at Canadian Tire
At least I now know who makes my charger
Schumacher SE-82-6 6Amp 2Amp Charger
To accompany the Schumacher Se-82-6 comes a somewhat similar and cheaper unit to acquire. It is essentially a Trickle Charger and simply maintains the charge in your battery, which is good for extended periods between uses or if you have a small problem yet to be diagnosed.
SEM-1562A - 1.5 Amp Battery Companion®
Here is where you can find these different TSP Products in the US. Please let me know any additional sources near you...
Lundmark TSP
:
ACE Hardware Outlet.com
and your local ACE Hardware Store
Paint Plus.com
HomeTown Hardware.com
Gillroy's.com
and Gillroy's Hardware Stores in Michigan and Georgia.
DAP TSP and DAP TSP PF
Do It Yourself.com
DAP.com
Savogran TSP and TSP PF
Savogran.com
USA Hardware.com
Do It Yourself.com
Aubuchon Hardware.com
and your local Aubuchon Hardware stores.
Red Devil Tsp 90 Heavy Duty Cleaner Ace Hardware stores... I have not used it so do not know how it performs...