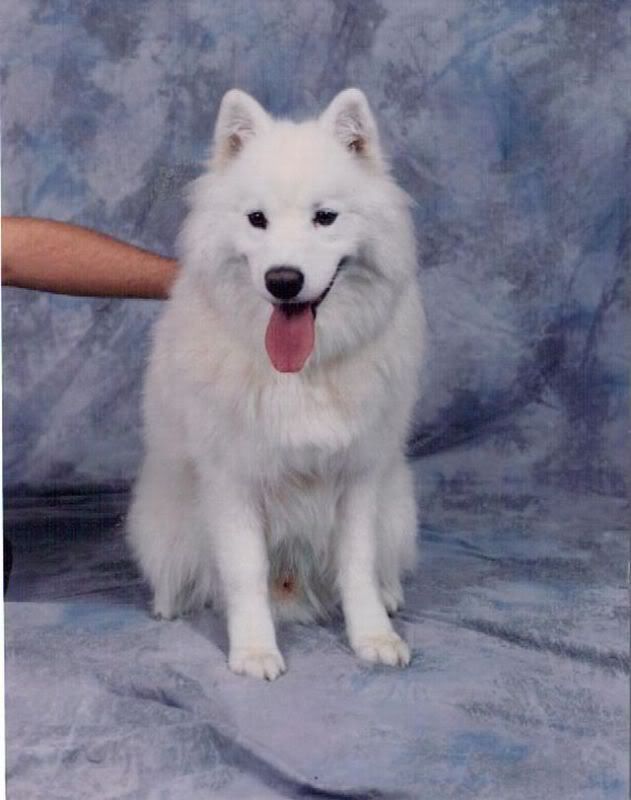 This was McQyver. Pure bred samoyed. He came to our family while living in Alaska. He spent the first living in doors basically as we lived in an apartment. Johnna wasnt working, and kids had school. So they played a lot. He was hers. He slept in our room, generally on the floor on her side of the bed. One night, she had already retired to the bed. I was in the bathroom finishing up and headed off to bed. There i found McQyver in my spot on the bed. I went to pull him off and he growled at me, mean like. Totally out of character, i was taken aback from this. I asked Johnna to get HER dog off the bed. All she could do is get him to budge closer to her. So that is how we slept that night, with a 100lb dog between us. Talk about birth control.
The one trick that annoyed me the most that Johnna taught him was whenever she squeaked, "Help me, Help me." No matter where McQyver was in the house, he would hear it and come running to her/me and attack me (playfully). She would do it if we were play restling, or if she just wanted to change the subject. Got to be annoying.
Of the two sammies we have had 12 years or more, this is most missed. We often call our other sammies Mac. As he is truly missed. At 10 yrs the vet said his spine was fried, dried up, and he shouldnt even be alive. That his love for his family is the only thing keeping him alive. He lived another productive 2 years. Finally dying of a heart attack. Buried in our back yard.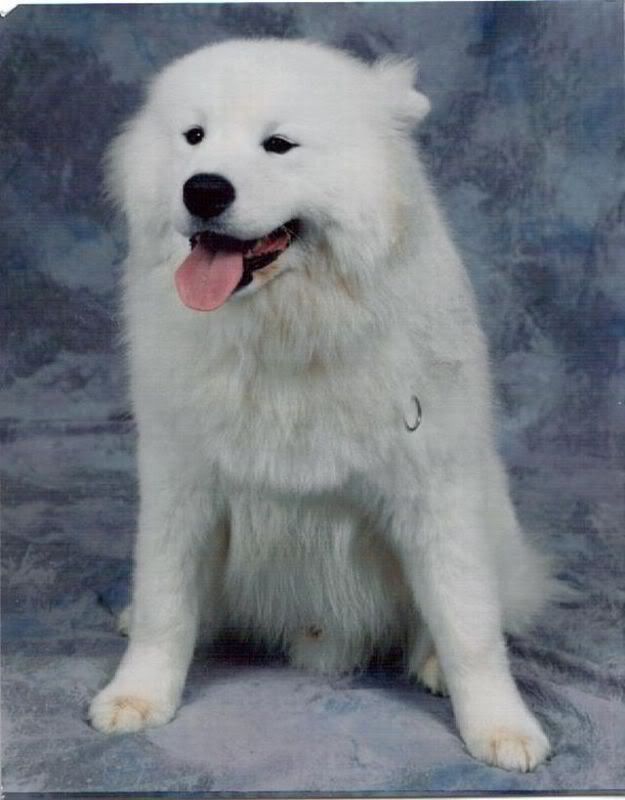 Shannon Ohara of the ork domain, was my girl. She passed last christmas. I had to put her down. Hardest thing i ever did. We got 15 good years out of her. Which is good for a large dog. She was my protector from McQyver. When he would come after me, she would drag him off. She also would not let any other dogs come to the house. So there was no getting a new puppy until she was gone. She always laid on my side of bed (floor). I called pigpen often. As if there was a little mud puddle in the yard, she would find it and do lay in it. Our other sammies would come in clean, but she would come in fiithy. She is buried in our yard as well. Under her favorite tree.
Not looking forward to when Maxwell goes, as he has been with us for 13 years
John