Moderator: Team Cub
Forum rules
Notice: For sale and wanted posts are not allowed in this forum. Please use our free
classifieds
or one of our site sponsors for your tractor and parts needs.
Kirk-NJ

10+ Years

Posts: 715
Joined: Sat Jan 03, 2009 1:15 pm
Zip Code: 07838
Location: Great Meadows NJ
Anybody know what these handle/ levers are for? Found 2 in the barn I'm cleaning out.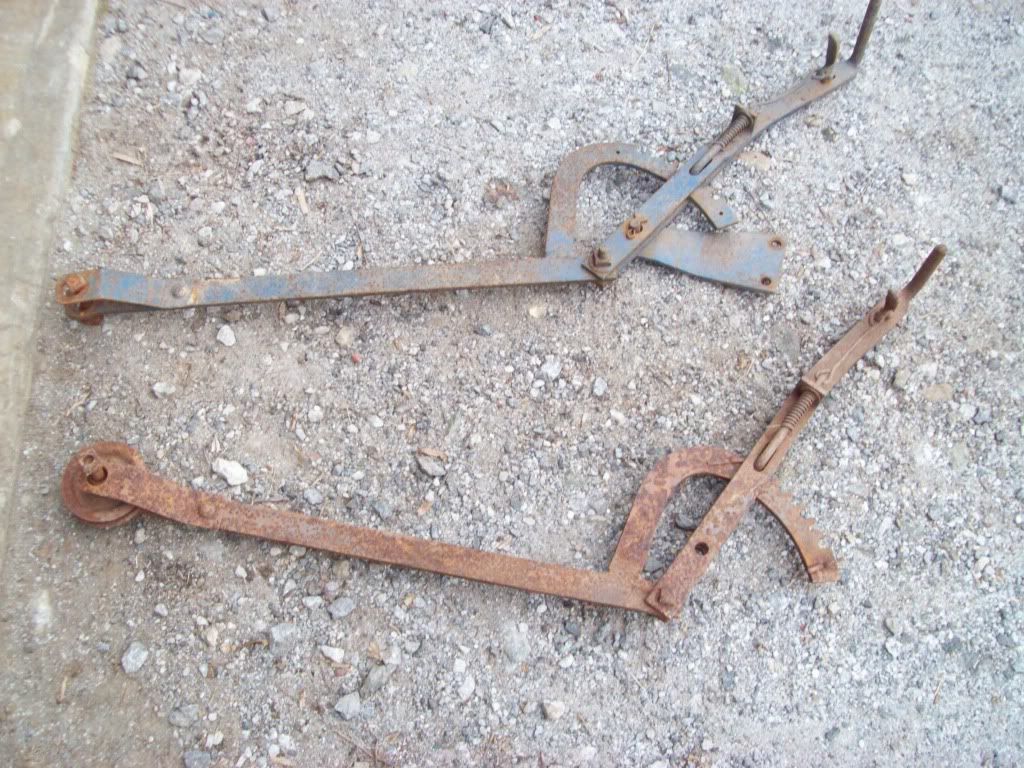 ---
John *.?-!.* cub owner

Team Cub Guide

Posts: 23105
Joined: Sun Feb 02, 2003 2:09 pm
Zip Code: 63664
Tractors Owned: 47, 48, 49 cub plus Wagner loader & other attachments. 41 Farmall H.
Location: Mo, Potosi
Nothing definite, but they are similar to the hand lift levers sold by Woods for their belly mount mowers.
If you are not part of the solution,
you are part of the problem!!!
---
ScottyD'sdad

Cub Pro

Posts: 6723
Joined: Thu Aug 31, 2006 7:00 pm
Zip Code: 02769
Tractors Owned: 6"F" cubs
5 lo-boys
1 154
1 184
1 IH444
1 Oliver OC3 crawler
1 AC D10
1 IH 100 manure spreader
1 IH model B corn grinder
3 power units
cub demonstrator
Circle of Safety: Y
Location: Ma. Rehoboth
The rustier one appears to have a pulley at the end. Possibly some sort of clutch, for a "V" belt. Ed
---
jim turner

10+ Years

Posts: 1703
Joined: Sun Feb 02, 2003 1:09 pm
Zip Code: 64784
Circle of Safety: Y
Location: Mo, Sheldon
I have one just like the rusty one for my Farmall A cultivator
Jim Turner
---
t jackson

10+ Years

Posts: 917
Joined: Wed Feb 01, 2006 9:36 pm
Zip Code: 21157
Circle of Safety: Y
Location: MD, Westminster
straight a exhuast lift levers
---
Kirk-NJ

10+ Years

Posts: 715
Joined: Sat Jan 03, 2009 1:15 pm
Zip Code: 07838
Location: Great Meadows NJ
---
t jackson

10+ Years

Posts: 917
Joined: Wed Feb 01, 2006 9:36 pm
Zip Code: 21157
Circle of Safety: Y
Location: MD, Westminster
---
---
Return to "Farmall A, Super A, AV, 100, 130 & 140"
Who is online
Users browsing this forum: No registered users and 1 guest