Mon Aug 09, 2010 10:43 am
I've been able to determine by searching the boards, that LoBoy and regular Cubs have different attachments. (related to heighth) I've not been able to determine, (my LoBoy has a fast hitch) if the fast hitch implements are different as well. I was kinda thinking a plow might be handy at some point. Are fast hitches for both version Cub's the same heighth? I do not have my fast hitch mounted, as it interferes with the mower attachments. (otherwise I could do a little comparison at a Cubfest)
Thanks in advance..

'64 LoBoy
Mon Aug 09, 2010 10:58 am
The 154 loboys didn't have fast hitches but they came with a 3pt hitch if they had that option. I believe the farmall cub's loboy and highboy both had fast hitches but i'm not sure if the heights on the fast hitch are different do to the higher tractor vs the lower tractor. It makes sense to me that they would be the same height on both tractors so the implements could be swapped between the two. We need the farmall cub guys here????

This part of the forum is confusing because were talking a 154/185/184 loboy's here yet we still have the pic of the farmall cub loboy its a totally different tractor.
Mon Aug 09, 2010 11:30 am
This part of the forum has always been confusing to me. (a newb) Mine does not have a number, and the painted info from the serial number tag is worn off. It's a yellow LoBoy, says International on the hood. The stamped part of the serial number indicates 1964, and it's an offset tractor.
I'm sorry if I posted in the wrong area. I thought this was the place for all LoBoy questions..
Mon Aug 09, 2010 11:51 am
Sorry for the confusion - since the standard cub and offset lo-boys are so similar they are generally discussed in the main cub forum. The number series lo-boys - 154, 185 & 184 are non-offset tractors with a frame and have several differences and are separated into their own forum
Now - to address your question - many fast hitch implements will work on either the cub or lo-boy. The 194 plow and the platform carrier are a couple of them. Most tillage equipment (other than the 194 moldboard plow are different because the rear wheels on the lo-boy are further forward in relation to the fast hitch due to the rotation of the final drives. So the disks are different, fast hitch mowers are different to name a few.
There is a height difference between the two but it is less of an issue.
Mon Aug 09, 2010 12:50 pm
sdurnal wrote:I've been able to determine by searching the boards, that LoBoy and regular Cubs have different attachments. (related to heighth) I've not been able to determine, (my LoBoy has a fast hitch) if the fast hitch implements are different as well. I was kinda thinking a plow might be handy at some point. Are fast hitches for both version Cub's the same heighth? I do not have my fast hitch mounted, as it interferes with the mower attachments. (

otherwise I could do a little comparison at a Cubfest

)

Thanks in advance..

'64 LoBoy
sdurnal,
Central Indiana CubFest: September 17th - 18th, 2010 - Tipton, Indiana
90 miles north of you - be there!
What kind of tires do you have, ag or turf? Depending on your soil type, turf tires may not work too well with a moldboard plow (LF-194). If you do plan on getting a fast-hitch plow make sure it is for a Cub and not for an 'A'. The stamped serial number on the plow beam for a Cub has the word "CUB" at the end.
Here's a link to TM Tractor's website comparing the two plows -
http://www.tm-tractor.com/gim/l-f194_-_1-f194_001.htm
With the loboy being about 8" lower than a regular Cub, ground clearance, and therefore plowing depth will be different.
Glad to see that you've been making your way around the different resources on FarmallCub.com.
Peter
Mon Aug 09, 2010 2:04 pm
I think this may be a repeat, but it is worth repeating. Follow the links below - it will take you to interesting stuff like the Manual Server where the Parts Catalogs can be found. This is a good place to learn about the various implement both regular and fast-hitch.
to Farmallcub.com

Forum Family. And you have come to the right place for all things Cub related. If you click on the

Site Rules, Regulations, & Important Information

, it will point you to

the

Welcome Wagon

wherein you will find links to many useful sites and topics. One of which is the

Cub Manual Server

. Enjoy!.
CBI-1A Revision 12 Parts Catalog
and the
CBI-2A Revision 1 Index Parts Catalog - with Fast-Hitch Implements
.
Tue Aug 10, 2010 6:55 am
I have bar tires on the rear, treaded on the front, and no weights. I'm assuming that I need the weights if considering the plow.
The tractor is also equipped with the front blade. (I'll have some additional questions in the future about mid mounting with quick hitch)
I also learned that the blade & mower can't co-exist. hehe
Thanks for the info.
Tue Aug 10, 2010 7:05 am
Can't mid-mount blade on Lo-Boy. Lo-Boy blade can be used on F-Cub, but not the other way around. Also cultivators, planters wont work on Lo-Boy. Lo-Boys are best for mowing and pushing snow. 100 blade would work also.
Tue Aug 10, 2010 7:17 am
lo-boys actually work pretty good with the LF-194 plow. Put your fast hitch on and bring your Cub to the CI Cubfest. There will be a few plows there and I'm sure someone would be happy to let you give it a try.
Tue Aug 10, 2010 9:46 am
A little more work is necessary before she's ready for the plow. (governor) I have all the info to do the job, however. Probably have to wait for a bit cooler weather before tackling that job. (I'm hoping that it's just an adjustment) I have the repair manual.
BTW thanks for the info, guys.. you don't get this kind of stuff from the ops manual..
Regards,
Fri Aug 13, 2010 8:43 am
There are just enough differences to trip you up at times. Almost any implement on that fast hitch will easily allow wheelies! It is a lot of weight way out back, so that's why mine came with two sets of front weights (stupid me sold one set).
I really like a fast hitch mower, especially on a Lo Boy.... but they are hard to find. If you start looking, a patient search will eventually turn one up.
I ended up with one by mere coincidence. While looking at a 100 for another board member it turns out the seller had just taken delivery of a C-2. A beautiful restored one at that! I looked at it and told him it wouldn't fit his Cub (long story how I knew that). I ended up trading parts from the mower that came with my 'new' Cub. So he could use the mower on his Cub and I could use mine (one day) on the Lo Boy, both of us won on that deal. The painted parts fit the Lo Boy. Most mowers cannot be 'converted'.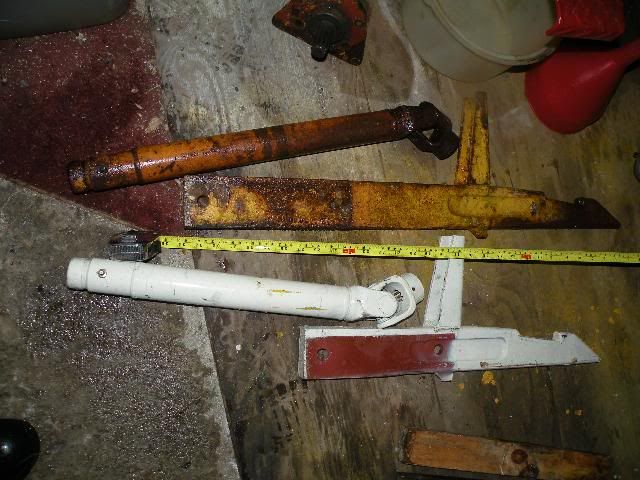 You
can
use a belly mount Mott... but it limits the usefulness of the fast hitch (I believe). I still have the brackets to mount a drawbar.