silverta16 wrote:I'd like to see mostly some aftershots of parts put in a electrolysis tank. How well does it clean them? I'd like to build one to clean some cultivator feet and other parts. I can wire brush the toolbars but the springs and such are hard to get clean. Also, how many cultivator feet could I put in there? Just one at a time, or if I used a 45 gallon barrel could I string 4 or 5 together? How long does it take to clean them, several days? Thanks Brandon.
Brandon:
Wire brushing any part is hard work and takes time. Cecil and I being two old navy guys agree that if you can get the job done without having to bust yer butt, then that is the way to go. Electrolysis with
TSP
is the ONLY way to go! Hardest part of the whole process is putting the part in the tank and then taking it out
I don't have any pics of the finished part, cause now it is painted, but let me put it this way.. see
Rudi's Electrolysis Tank
and view the PPT show. It will tell you how to build it (my variant that is), and it will tell you what to use (TSP). It will also show you the part bubbling away. Suffice to say that the part in the tank bubbling away, sat on a series of pallets over the years outside for about 4 decades until I got it. At which point it went into the tank. I forgot to take pics of it coming out of the tank, but I did manage to get it primed, along with the rest of my blade that went into that tank.
After I put the front wheel rims in the tank, and after they were done, I just wire wheeled them lightly (now I just power wash) and let them dry. I promptly forgot about both pairs of front rims. Then we had
CubFest Northeast 2004
, and I forgot to prime them front rims. Then shortly after CubFest I had my heart attack and a sextuple by-pass along with a few other things.. Needless to say the rims still did not get primed
They are still stiiting in the shop not primed. And there is
NO FLASH RUST
or
RUST
of any kind on those front rims.
I just found a post by BuzzardWing showing his before and after pics of his front rims.. Thanks Larry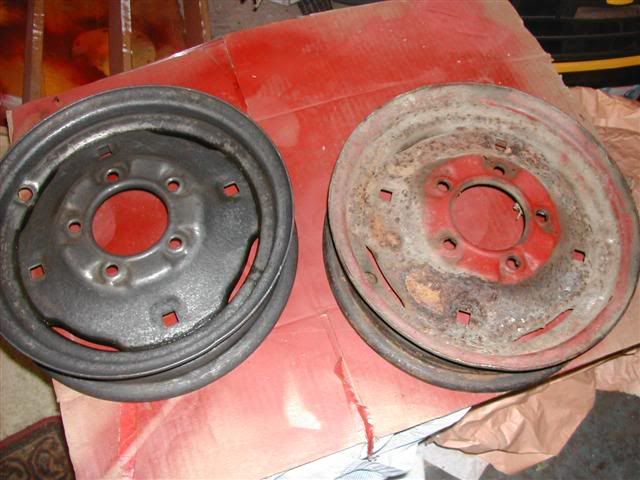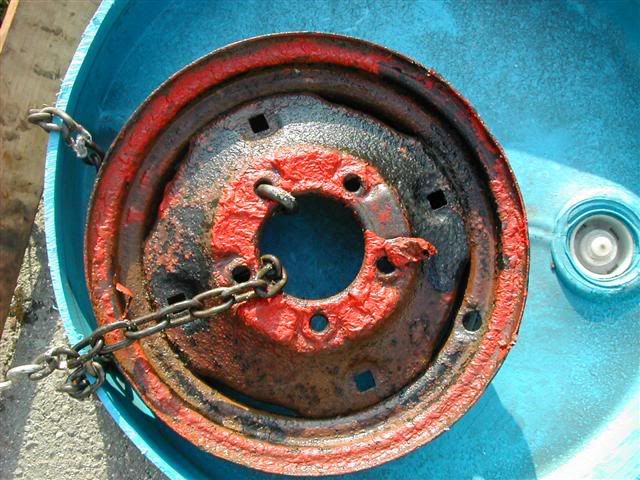 At CubFest Northeast 2006, as Cecil and I built the tanks for one of the workshops.. see pics on the CubFest Photo Host, we were asked the same question over and over again. Why do you use
TSP
and not
Washing Soda
. I just used to say that it worked better, and never made much comment on the
Flash Rust
. I just assumed that everybody knew this. Also, I think Cecil did the same.
Larry aka BuzzardWing uses the tank as well. He uses Arm & Hammer Washing Soda.. and right after he takes the parts out of the tank, he has to clean em, prep em and prime em, otherwise he
GETS FLASH RUST
..
Cecil and I came to the same conclusion based on a few years experience. Using
TSP
you just have to clean the parts and let them dry after a trip in the tank. You can then hang em up and forget about them until it is time to prime
ALL
of the parts for that particular project. They will
NOT RUST
. I cannot explain it.. it just
IS
..
Here are a few products that work in the Electrolysis Tank:
Option 1: Okay
----------------------------------
Option 2: Better
-----------------
Option 3: Best
Here are some associated threads on the subject:
New tank working. Front rims
electrolosis at cubfest???
Sodium-Carbonate
Electrolysis help Please???
Electrolysis