Sun Nov 25, 2012 12:40 pm
Hello came across this forum and thought I would join. I used to have a 47 cub. I went through everything (except cosmetics) on it then traded it for a 530 case. I have been missing it so I just bought 2 cubs off CL. A yellow and white one with a mower, tire chains, and a plow. Also a red one with a plow and a belt pulley take off. Both for 1500$. The red one serial # is a 1949 the yellow and white one is a 1959. I see red paint poking out of the yellow ones torque tube so not sure if it is a frankin tractor or what. They have both been badly neglected. Former owner didn't seem to know how to take care of them. He used the yellow one for like an hour then it broke down in his yard and there it has sat for a couple years. The red one he plowed with at some point. I pulled the carb on the red one and cleaned it today. There was so much white stuff in it the float couldn't move. There is a 6v coil screwed to the top of the mag. He said he paid his mechanic friend to put a new wiring harness on the tractor. Not sure what they were up to there. I see the tire is on backward on the yellow one. I wonder why anyone would take the time to bolt a tire on if it was facing the wrong way lol. I will see if it will start later today if I can get a charge in the battery. If not I will tear into the mag and try to put it back to original and make a hand crank. Here are the CL pics from when I picked them up yesterday.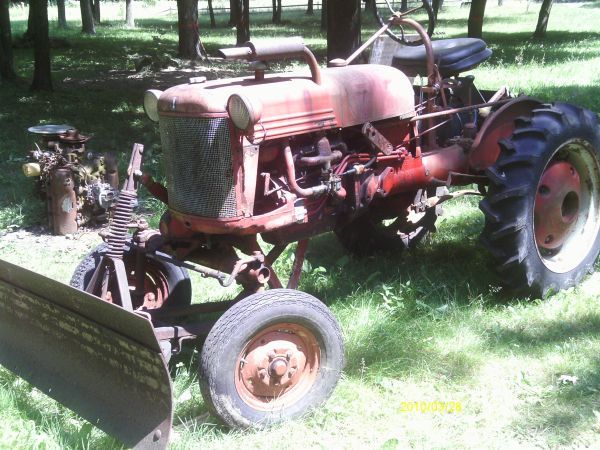 Sun Nov 25, 2012 1:52 pm
Welcome to the forum. The red you see poking thru on the '59 is original paint. They didn't switch to y/w until a few years later.
Sun Nov 25, 2012 11:19 pm
I got the red one going today and rode it around a little. Then shut it down and started draining fluids. I pulled the mag to see what is going on with the coil. It appears to have a different yellow mag with an external coil attached to it. Spark plug wires look like original cloth covered wire. I pulled the cover and the original coil is gone and there is a lot of oil inside the mag cover where the coil belongs. Is that area supposed to have oil in it? Also this tractor has hydraulics (my old one was manual) the front blade has down pressure when I lower it. Is it supposed to have down pressure or should it float? Kind of surprised me when it dug into the ground and almost stalled the tractor.
Sun Nov 25, 2012 11:46 pm
Welcome to the forum! Nice to have another cubber to the south of me in western PA...

To answer your questions: No, there shouldn't be any oil in that part of the mag. Most likely, the seal that runs on the governor (right behind the mag) is leaking and since the gasket between the mag and governor is a good seal there was no place for the oil to go. Check out other posts on this forum and the service manuals on how to change the magneto/governor oil seal...

They did make the hydraulics and the mechanism to lift the blade that you have with capability of down pressure. To alleviate this for plowing snow, they made a flexible clevis to attach to the top of the spring tower on the blade so that it will float a little more. You can also adjust the angle of attack on the bottom of the blade so that it will float a bit better over obstacles when plowing snow. If you decide to use it to grade (center position), you can adjust the angle of attack to be a little more aggressive to dig some dirt.

Again, welcome to the forum! You've come to the right place!!
Mon Nov 26, 2012 12:12 am
gibsonia, had to look that one up, looks to be about 2.5 hours south of here in warren. i just pulled the points cover off and couldn't believe it even ran. and it actually started and ran good!!! the points were totally submerged in engine oil, i had to dump it out. wow.
Mon Nov 26, 2012 10:27 am
Gus, Welcome to the Forum. It looks like the PO modified the exhaust so it would fog mosquitoes before they got to him.
There are also shoes or skids that can be placed on the bottom of the blade to help keep it from digging in. Barnyard sells reproductions that you can find in the For Sale forum. Hope you enjoy your Cub.
Bob
Fri Nov 30, 2012 6:38 am
I have been working on the cub and have found some strange stuff; I took the mag off and cleaned it real good, set the points, flushed the engine out with kerosene and put new oil and filter in, drained the tranny and flushed and cleaned it out. I found the detent balls in the shifter rails were not in the holes on top of the springs where they should be. They were in the holes that the shifter rails travel in. not sure if somebody else had it apart and messed up or if they can somehow pop out and get in front of the rails if you jam it too hard. So I put them back and buttoned the transmission last night. Put my new governor-magneto drive seal in and put the mag on and couldn't get it to time at TDC. It was always about an inch past TDC no matter how far I rotated it. So I took it back out and built the drive ears up with weld and filed them back to a perfect fit and I still couldn't get it to snap at TDC. So I took the governor out and jumped it 1 tooth backward and now the drive slot sits at about 8:00-2:00 and it snaps at TDC instead of like 2" after. I made some new plug wires and cleaned all the plugs and thought I would do a compression test before put them on and was pleased to find 115# 115# 120# 120# front to back, my old cub was never that good. Makes me wonder if somebody was into this engine at some point. I think it's actually going to be a really good tractor. I was assuming the worst by looking at where and how it had been treated by the previous owner. And the amount of terrible black sludge and tar that came out when I drained everything. Maybe I'll put the hood back on tonight then clean out the finals and be done for now.
Fri Nov 30, 2012 6:57 am
Looks like you are making great progress. I'll take that kind of compression any day.
Fri Nov 30, 2012 7:07 am
For sure, someone has been into the trans. before, that's the only way those detent balls can end up in the shaft bore. You done good there. It's hard to say how far someone's been into the engine, but we do know that they didn't properly time the governor gear. Both of these discoveries are quite common, by the way.
Fri Nov 30, 2012 10:00 am
Gus:
G'day and congrats
on the 2 new to you Cubs and joining the MCC all at the very same time. Interesting Cubs -- and that muffler
definitely different. Looks like 2 nice Cubs that will give you hours of play time as you bring them back up to snuff. As Bill said, I would take those compression numbers any day of the week as well. Very nice.
Lots of manuals and resources for our members , follow the links below
to Farmallcub.com

Forum Family. And you have come to the right place for all things Cub related. If you click on the

Site Rules, Regulations, & Important Information

, it will point you to

the

Welcome Wagon

wherein you will find links to many useful sites and topics. One of which is the

Cub Manual Server

. Enjoy!.
Fri Nov 30, 2012 7:48 pm
put the hood on and the new battery and tried to start it tonight and no-go. got good spark, mag clicks right at tdc fireing stroke. fireing order is 1-3-4-2 staring at the top. what am i missing, does my mag need to be timed differently since i have a bastardized mag with a coil attached to the top? maybe somehow i put the rotor on wrong when i packed it with grease.hmmmmm. sort of scrambaled tonight because my wife went to the movies and my little monkey is out in the garage "helping".
Fri Nov 30, 2012 9:08 pm
Pull plug # 1 and bring the piston to TDC on the compression stroke. At that point replace the plug and remove the distributor cap. Verify the rotor tab is pointed to the cap tower that the #1 plug wire is connected to. This will verify if you are timed properly.
Fri Nov 30, 2012 9:44 pm
Since you had the mag apart, you need to time the rotor. Did you get fire from the coil wire?
Fri Nov 30, 2012 10:03 pm
when i put the rotor on i lined up the little lines between it and the pinion. i have very good spark at the coil and at the spark plug. gapped the points at .013
Fri Nov 30, 2012 10:32 pm
Congrat's on the new Cubs, and welcome to the forum!