Mon Nov 19, 2012 10:11 am
Hello gents....
I posted a few topics about the building of my timber frame last year. Just wanted to post an update now that I have finally finished the building.
My summer project was getting doors and windows in, staining the building, and finishing the root cellar. This was a 2 year project that began in 2010 with the site work and the installation of the foundation. The root cellar has 2 rooms divided by a door so I can control temp. better. This will have many uses...from storing vegetables and apples, to keeping sap cool before I boil, to letting an early season deer age properly before butchering.
Mon Nov 19, 2012 10:14 am
This building began life as a bunch of rough sawn white pine and spruce, half of which I took off my land. I then spent the summer of 2011 in my garage cutting the joints....
Mon Nov 19, 2012 10:17 am
Barn raising day with 14 or so good friends and family....helping my son drive one of the oak pegs.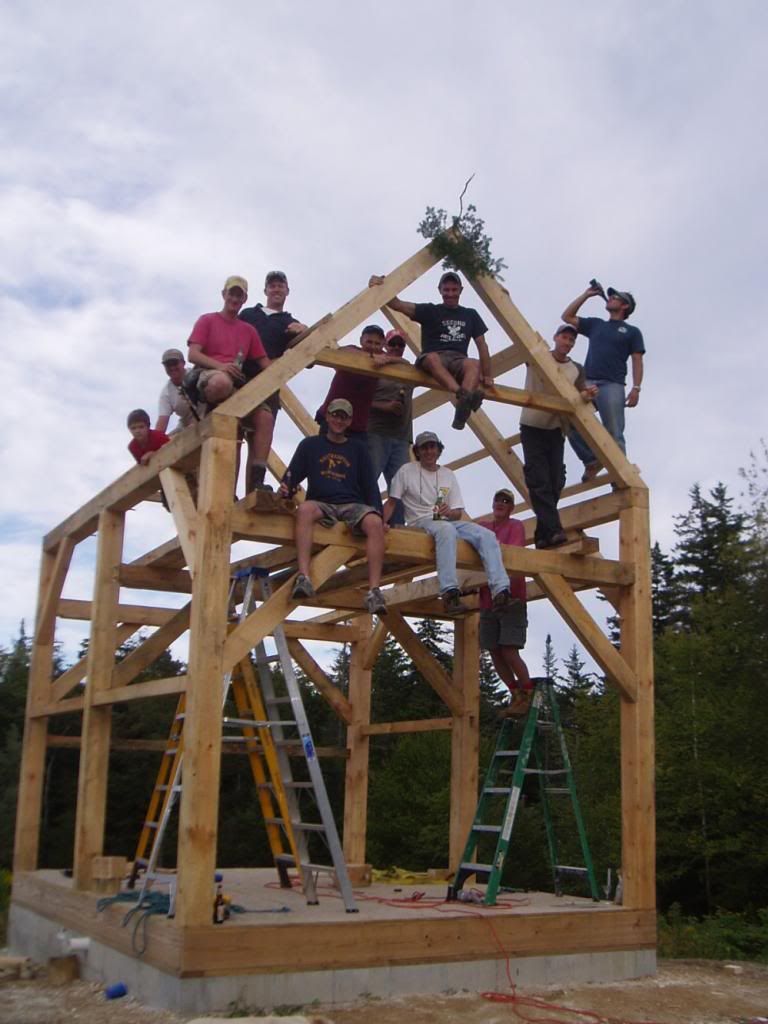 Mon Nov 19, 2012 10:20 am
Finally...windows, doors, trim, hardware, and stain and she is all done. Took these this weekend. I'm ready to boil some sap and make some great memories with my friends and family!
Blair
Last edited by Bigschuss on Mon Nov 19, 2012 11:50 am, edited 1 time in total.
Mon Nov 19, 2012 10:48 am
Wow you did grrrreat !!!!!
Last edited by Bob Perry on Mon Nov 19, 2012 12:56 pm, edited 1 time in total.
Mon Nov 19, 2012 11:12 am
That is really cool, nice job. Thanks for sharing.
Mon Nov 19, 2012 11:17 am
Blair,
Hats off to your workmanship; you're a true craftsman!! You have constructed a fine looking, as well as durable, building. You should be proud.

Do you know how long veggies will keep down in your cellar?
Mon Nov 19, 2012 12:29 pm
Great job, Blair.
Mon Nov 19, 2012 12:57 pm
Nice work.
I liked the detail on the joint. Also enjoyed the peek into your workshop / Man cave.
Mon Nov 19, 2012 3:51 pm
Wow!! I love timber frame buildings...definitely a lost art for the most part...
Great job!!
Mon Nov 19, 2012 4:03 pm
Geeeeeez! In a good way! Beautiful. Great looking.
Mon Nov 19, 2012 4:34 pm
Man, that is truly amazing! Gotta love timber frames. That is truly some unbelievable craftsmanship.... and patients!
Mon Nov 19, 2012 6:45 pm
Wow, what a great job. I would love to be bale to do that, but I think I lack certain skills, and a whole lot of knowledge. Beautiful job, Blair!
Mon Nov 19, 2012 7:17 pm
Blair:

I have said it before and I will keep on saying again... beautiful craftsmanship and an absolutely gorgeous building. I really love it and wish I had the patience to do that kind of post and beam construction. I saw one under construction on the way to Cecil's, it was somewhere off the 95 in Mass - right off I thought of this project and was wondering how it was going. Now we know. Simply gorgeous.

I like that old huge B&D 1/2" drill as well. Neat tool and lots of power. I like your clamps -- them will work nicely. The wooden mallet - is that an ECE mallet?
Mon Nov 19, 2012 7:24 pm
Very Very Nice. I have done a little of everything you did there but not all for one ground up project. Lots and lots of hard work there.
Wow, wow. That is fantastic. Good for you.

Where did the scarf end up??
Do you have pics of the inside.
Reminds me of a Sobon shed.
Thackery