Sat Nov 03, 2012 8:13 pm
I went to Lowell Ohio Friday and returned today with economy tractors. The small one is mine (1614) and the big one (2412) is for a friend in Charlottesville, Va.
this is my first Economy purchase so I am starting to learn about these little tractors. ( edited to correct grammar )
Berlin
http://i581.photobucket.com/albums/ss25 ... sNy240.jpg
Sun Nov 04, 2012 7:03 am
Better watch out, those Economy tractors are just about as addicting as a Cub. My dad, who owned the IH dealership when I was growing up, used to also work on Economy tractors. He restored a bunch of them and used to tell me how much he liked them. They are a bit smaller than a cub, but with the tall wheels/tires, can do just about anything a cub can. Since they're smaller, they are a bit easier to work on. Also, the Kohler engines are nice, because like a cub cadet, take 4 bolts out, and you can pull the engine right off the tractor to work on it. Definitely some advantages if you are going to rebuild the engine, or restore the complete tractor. Overall, like a cub, just a nice simiple machine that was built like a tank.
Sun Nov 04, 2012 9:52 am
http://gardentractortalk.com/
Above site has some advertisements for Economy tractors showing the different attachments. Also contains a number of photos of the tractors. You need to be a member, free membership to down load manuals, etc..
Sun Nov 04, 2012 6:12 pm
Thanks for the info, I'm just starting to learn about these tractors, they may be addictive like the Cub. I already realize that I need another one with the 24" wheels .
Berlin
Sun Nov 04, 2012 6:26 pm
A friend of mine owns this one
http://www.golsn.com/listings/home-gard ... 86887.html
Mon Nov 05, 2012 10:31 am
I have a 1948 Economy Chain Steer. It is not as handy as the newer Economy tractors. However, we did use it yesterday to pull the lawn sweeper and bring leaves to the chipper shredder. It seems rather primitive when compared to the same vintage cub.
The PowerKing Tractor Group on Yahoo is good source for information for Economy, PowerKing and Jim Dandy tractors. You have to register with the group, but they are a good group of people and seem helpful.
http://groups.yahoo.com/group/PowerKingTractors/
Doug
Edit: Added information on PowerKing Yahoo Group
Mon Nov 05, 2012 9:23 pm
Muleboss has a few Economy/Power King's, too. Picture from Kansas Cubfest 2012.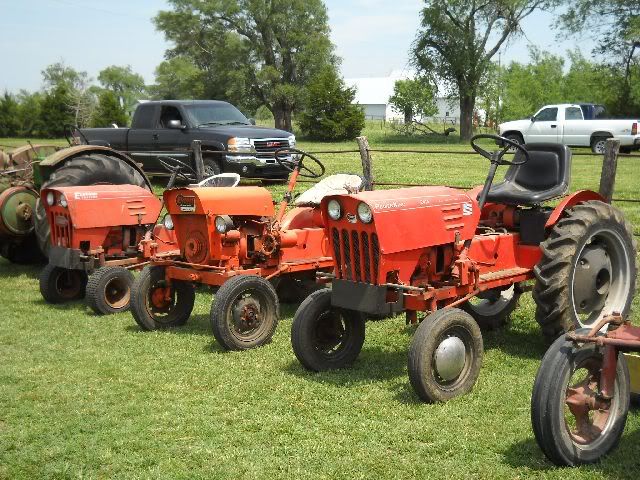 Thu Dec 20, 2012 9:24 pm
I have had 2 of the Power KIngs. I have sold one but kept the 1966 Dulley. It is a power house. I dont find it as enjoyable to operate as I do the Cub. I use it mostly for tilling the garden. Its is very simple to work on and parts are easy to come by.
This is the one I still have
This one I rebuilt and sold