Tue Jul 24, 2012 5:51 pm
I just read the post about Gary and Kristy.
Glad you all will recover in time ....Thoughts and prayers are out to you .
I am not going to second guess anything but i have hauled a lot of equiptment on trailers and the one thing i would say is i always put a block under the rear of the trailer for the load to rest on so it does not raise the back of the tow vehicle .
It is just one of those things i do ......
I do not post a lot lately but when i see a issue that i feel may save someone from harm i come out of the woodwork
Edited to add......
Mods this needs moved to the safty forum ... But please leave a Ghost post here for a few days so it will be seen. Thanks
Last edited by
Ralph
on Tue Jul 24, 2012 6:37 pm, edited 1 time in total.
Tue Jul 24, 2012 5:58 pm
Excellent advice, Ralph.
Tue Jul 24, 2012 6:27 pm
Thanks Ralph, that is handy advice. My bigger trailer has blocks on the ramps that rest close to the ground when down so I don't have to think of it most of the time.
Tue Jul 24, 2012 7:47 pm
Good advice, Ralph. That's why I always carry a couple of small hydraulic jacks - one for each side.
Tue Jul 24, 2012 11:26 pm
It can get interesting at times...Don't learn the hard way!!!! Kevin
Wed Jul 25, 2012 8:10 am
Ralph, that definitely is good advice.... something that was learned the hard way. The Kubota w/FEL and brush hog weighs in a little over a ton. I've got a new tandem 16' trailer now and did some checking of how much it lifts the rear of a truck. Now granted my avalanche doesn't have near the frame/suspension of the silverado (avalanche is a unibody), on level ground my dad measured 7" of lift with the tractor on the rear gate. I don't know how much it actually lifted the silverado, it was actually ordered with the heavier rear springs and shocks, not 3/4 or 1 ton of course, but I know a lot of people on hear pull with 1/2 ton trucks or less and pull a lot heavier.

I don't know how much length of trailer affects lift of truck, but I would expect a longer trailer = more rear lift. I was loading on a 12' trailer vs. a 16' now. Also, how about the drop of the ball? I had a 3 1/4" drop to have the trailer level, with a shorter drop I guess it would push the rear up more? I am using two safety jacks on the rear now, lesson hard learned. I wish I had a picture showing how the 4x4 block got shredded being pushed by the trailer, I guess getting wood to bite of pavement is another issue, so using the correct chock blocks is another thing. I have since purchased 4 of the yellow plastic chocks, but I really don't care for them, I've had 3 guys tell me their own horror stories of trucks running over the rubber chocks.
Wed Jul 25, 2012 9:12 am
thanks Ralph for bringing this up and thanks mods for leaving it here instead of in the safety section for a while--for those of you that don't fully understand this happening it doesn't matter if ya got the e-brake applied tightly and auto trans in park or manual trans in 1st gear the rear wheels WILL lift up and if yer on any kind of a slant the truck, trailer and tractor starts to move and that's scary--if ya got a block under the rear of the trailer you'll probably be just fine--I get wifie to hold the brakes in the truck while I am loading and unloading and if she's not available I make sure the truck and trailer are on level ground--JMMHO--you were lucky, Dale w/yer 580 hoe!!
Wed Jul 25, 2012 9:14 am
Also a good idea is if you have a 4x4 truck or SUV just put it in four wheel drive so at least you got the benefit of the front wheels holding also.
Wed Jul 25, 2012 9:51 am
I did not see this additional point when going through the posts. If you fail to block the rear of your trailer when loading or unloading, you can buckle or bend your trailer frame. The wheels and spring perches of the trailer become a fulcrum and excessive weight concentrated on the tail of the trailer with the front hooked to the tow vehicle can bow the frame over the spring perches. When I bought my used skid loader, the previous owner had done just that to the trailer that he threw in on the deal I negotiated for the skid loader. The trailer still 'works' sort of, but the 'C' angle iron frame is bowed over the wheels and the tail end is bent down some. Obviously, this negatively affects the proper operation of the springs.
Wed Jul 25, 2012 11:28 am
Since I just bought an 18' trailer I was thinking about this very issue. It has a one-piece, drop-down ramp with no supports for the forward edge of the ramp or the rear of the trailer. I was already planning to reinforce the ramp itself with extra angle iron, but wondered if it would work to
weld supports to the forward edge of the ramp
, that would be vertical when the ramp is lowered, like some of the car haulers have? That way they would act like jack stands under the hinged area. I can't find a photo of one right now, but it would be 3 pieces of angle iron welded together in the shape of a square "C", then the open end welded to the ramp (one on the left side and one on the right). With the ramp in the UP position, they would stick out horizontally.
If this makes ANY sense, I would appreciate opinions as to whether this would be sufficient.
Here's the trailer, as long as the post stays up!
http://raleigh.craigslist.org/grd/3153875054.html
Wed Jul 25, 2012 11:34 am
Good post. My trailer has 2" box tubing legs on the rear, one on each side. They're located right beside the the tailights. The legs are sleeved in 2-1/2" tubing. Each leg has about 4 holes drilled in it so I can pin them at different heights because of uneven ground or to allow for blocking under them if I'm on soft ground or pavement. I pull a pin, drop them down to the ground and stick the pin back in them. They take the weight when you start on the ramps. I also carry a piece of 6x6 oak cribbing in the bed of the truck and always block the front wheel of the truck. I have almost no level ground at my house, so 9 times out of 10 I load in the road in front of my house, which isnt' level either. I sometimes catch myself gettin' kinda cavalier about loading and unloading the Cub or the small Deere's, and thats what sets you up for disaster. I try to be extra cautious with the "M" or one of our biggers tractors...
This is my "normal" loading spot...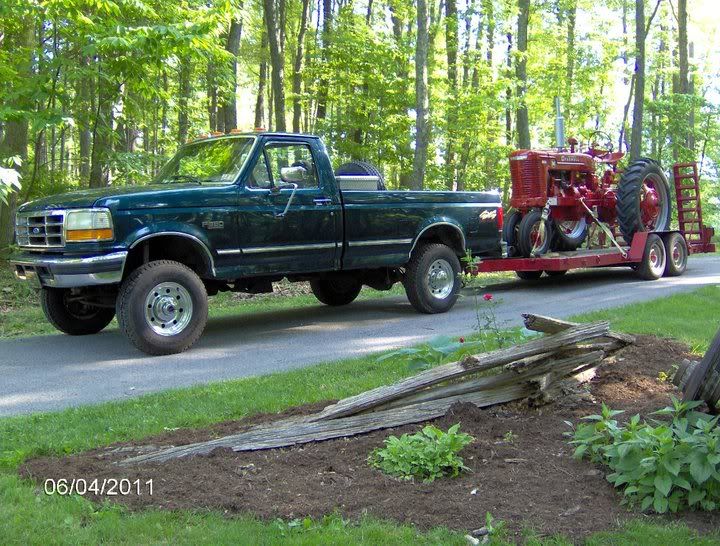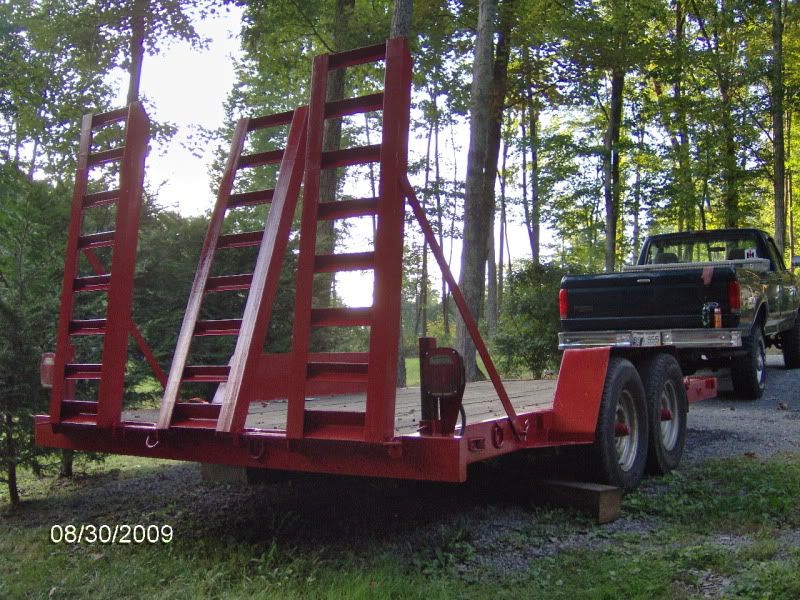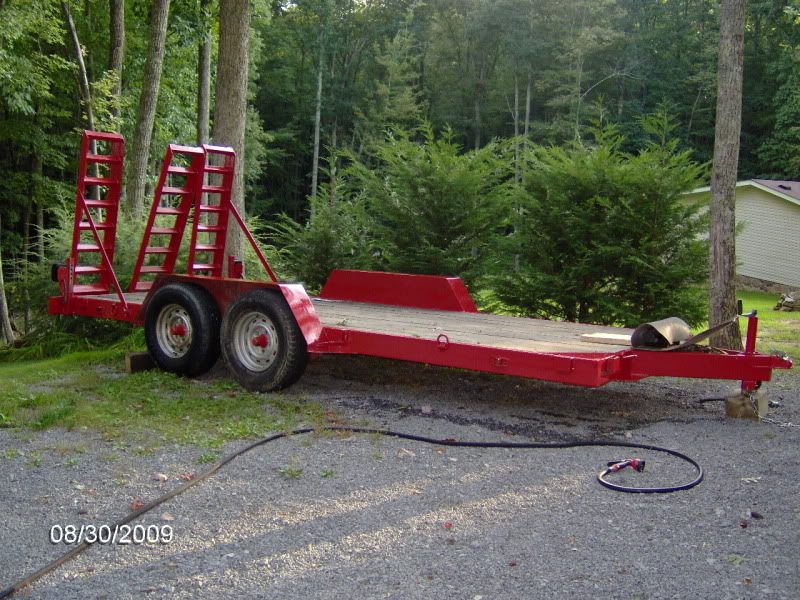 Wed Jul 25, 2012 1:54 pm
Dusti Snider wrote: My trailer has 2" box tubing legs on the rear, one on each side. They're located right beside the the tailights. The legs are sleeved in 2-1/2" tubing. Each leg has about 4 holes drilled in it so I can pin them at different heights because of uneven ground or to allow for blocking under them if I'm on soft ground or pavement.
Hey, Dusti, I really like that setup. It is much more compact than what I was thinking of, and I think would be easily fabricated. Do the posts have "feet" on the bottom like a trailer jack?
Wed Jul 25, 2012 3:20 pm
No, they could've. I just used a piece of 3/8" plate to cap them top and bottom, with a small "weep" hole at the bottom. With just a cap on them they'll pull completely up in the sleeve and I don't have to worry about them hanging down and banging into something. The pins for them are made out 5/8" bolts with the heads cut off and a chain link welded on 'em for a handle, on the opposite side they're drilled for a hairpin to hold them in place. I keep them liberally coated with old motor oil and they slide in and out real easy and they fit tight enough that they don't rattle...

If I had it to do over again, I'd make them about 2' taller than the tailights. When you're sitting up on that "M" your eyeballs are 8' in the air and you can't see the edge of the trailer over those tires. I came perilously close one night to going over the side because I was loading in the dark with no one to spot for me. My trailer is narrow...72" and the "M" is sitting at 72" as well. There's no margin for error...
Wed Jul 25, 2012 5:41 pm
I've made these supports that I use when loading and unloading my trailer. They stabilize the trailer and keep the trailer from moving while driving onto the deck. It is really important while loading and unloading my tractors with steel wheels.
The supports below are made from two pieces of formed angle welded together to form box tubing (I couldn't find any box tubing that fit the stake pockets as well as I wanted) and a simple pad welded to the bottom end to keep it from sinking in the ground.
I added holes throughout its length to accommodate a 1/2" hitch pin. The hitch pin keeps the support up when not in use. When in use, I pull the pin and drop the support down to the ground and place the pin in the nearest hole under the stake pocket.
I added another hole in the hitch pin to use when the supports are not in use. Without the additional hole the pins could work their way out and get hung up on something. I attached the hair pin to the hitch pin with a small piece of chain to keep it from getting lost.
Wed Jul 25, 2012 10:04 pm
Chain on the hair pin? Yeah I'm stealin' that idea!!! I haven't lost mine yet, but it's aggravating keepin' up with them. Great idea!