Wed Jan 25, 2012 5:52 pm
dgrapes59 wrote:Gary,

That is a Beast of a trailer for sure! Does it have brakes on one or both axles?

I have wondered about using bedliner paint on top of the normal paint job for the front parts of the trailer, including fronts of fenders. Mine take a beating from stuff that is kicked up from my truck.

Thanks for sharing,
it's got brakes on both axles. Hopefully it will be nice enough one day next week to get all the wiring done on it. I've got a nice stack of 8/4 16' oak planks ready to get mounted on it too.
Wed Jan 25, 2012 11:09 pm
Very nice Gary, I like all the extra work done on it especially the boxed in lights. I tore the lights off my new trailer the first time out while crossing a creek.
Moved them both up on top in boxes just like yours.
Thu Jan 26, 2012 8:28 am
I agree with Don on the rub rails. Mine doesn't have them either and I've always wanted to add them.
Mon Apr 02, 2012 3:28 pm
Well, I know it's been a long time in posting some updates, but work has been well....work. I have a good friend who owns the local Federated/Fisher parts store, so he hooked me up with some spray on/roll on bedliner. I was originally going to paint it FA red, but for the price I couldn't pass the bedliner up. I don't think I'm going to have time to get it finished in time to take down to Boss' but hopefully here in a week or two it will be done. I've got 8/4 x6x16' red oak planks for the deck. I've still got a little more painting to do, and definitely need to get new tires. Also just got in the breakaway controller for it.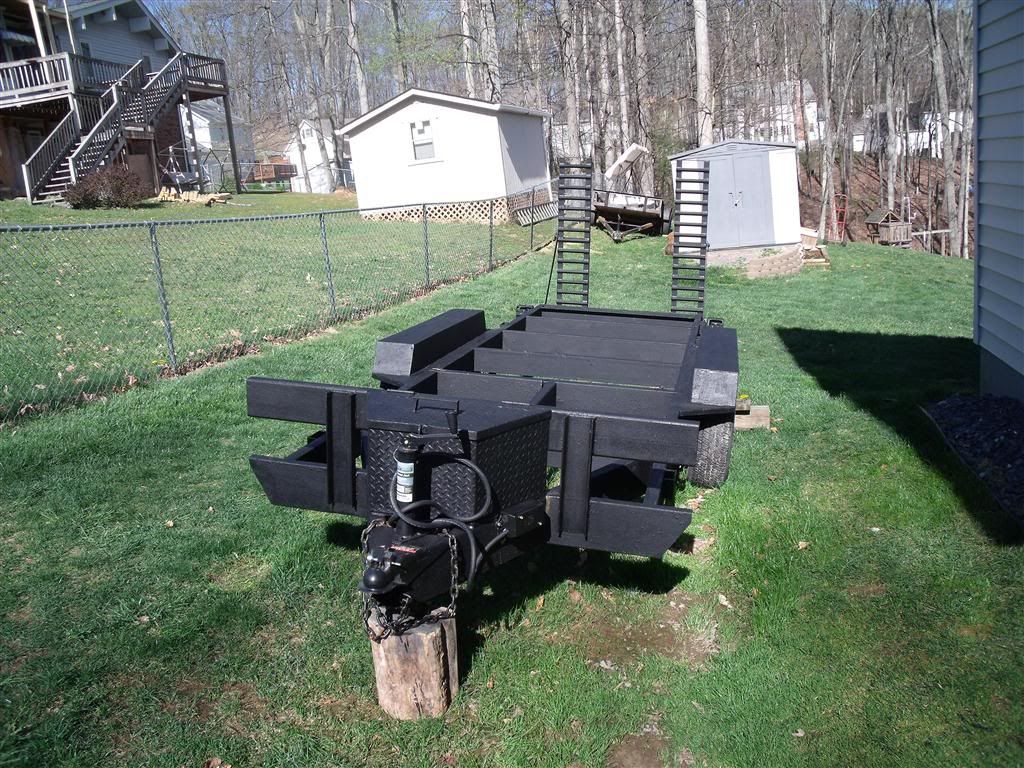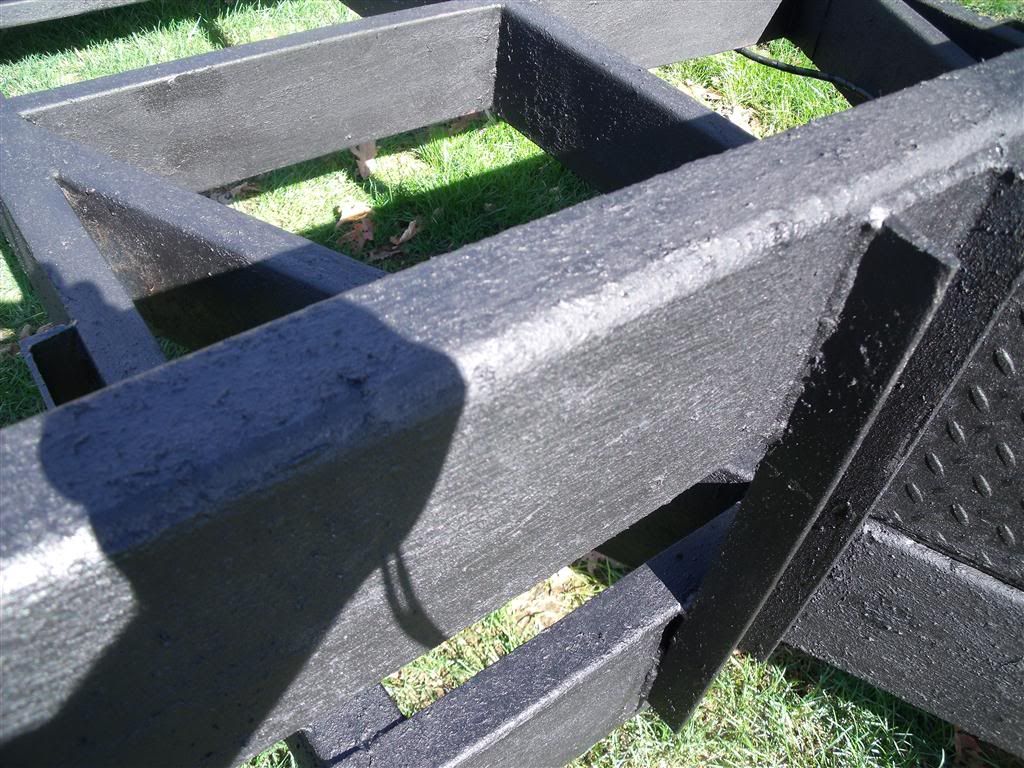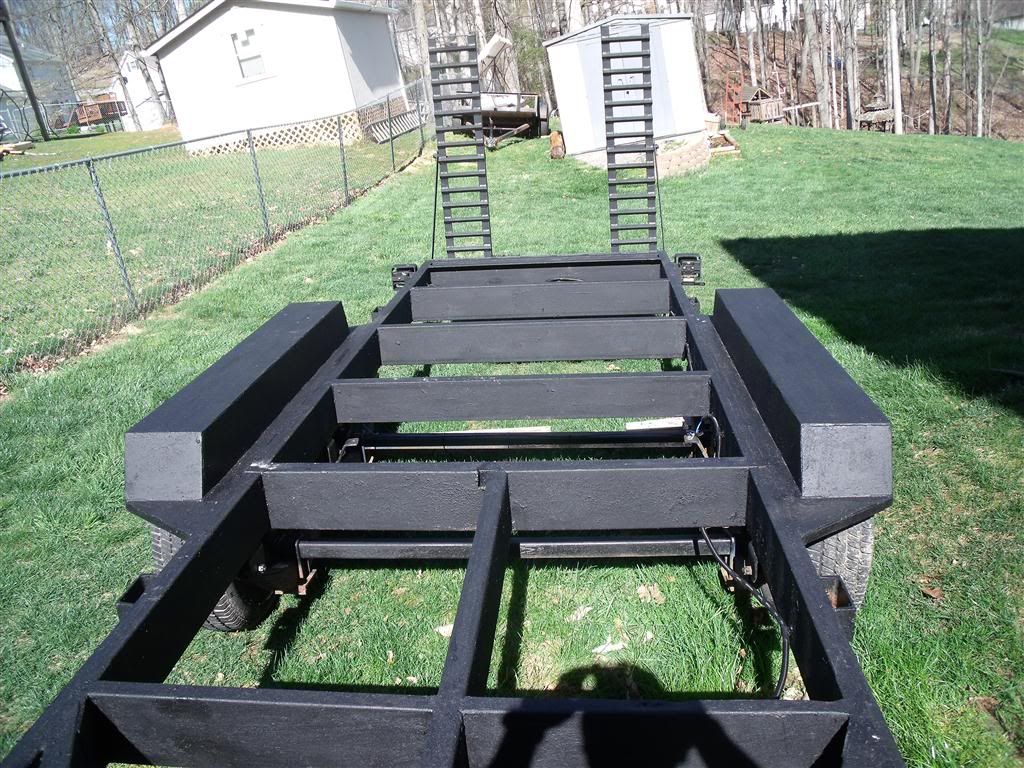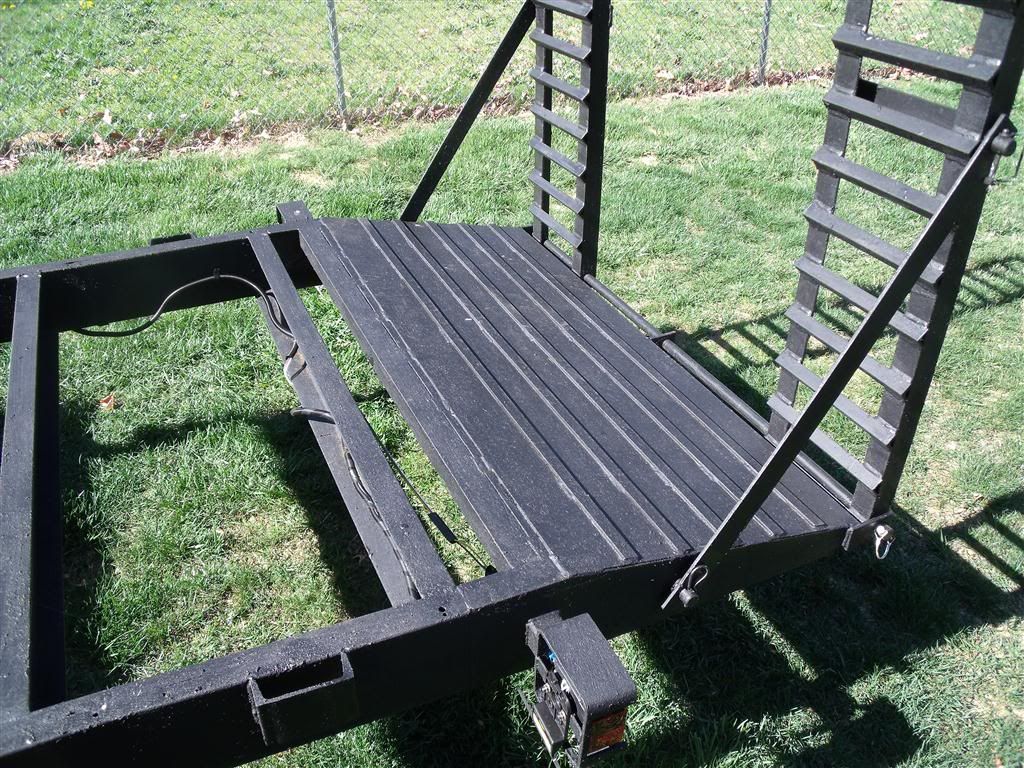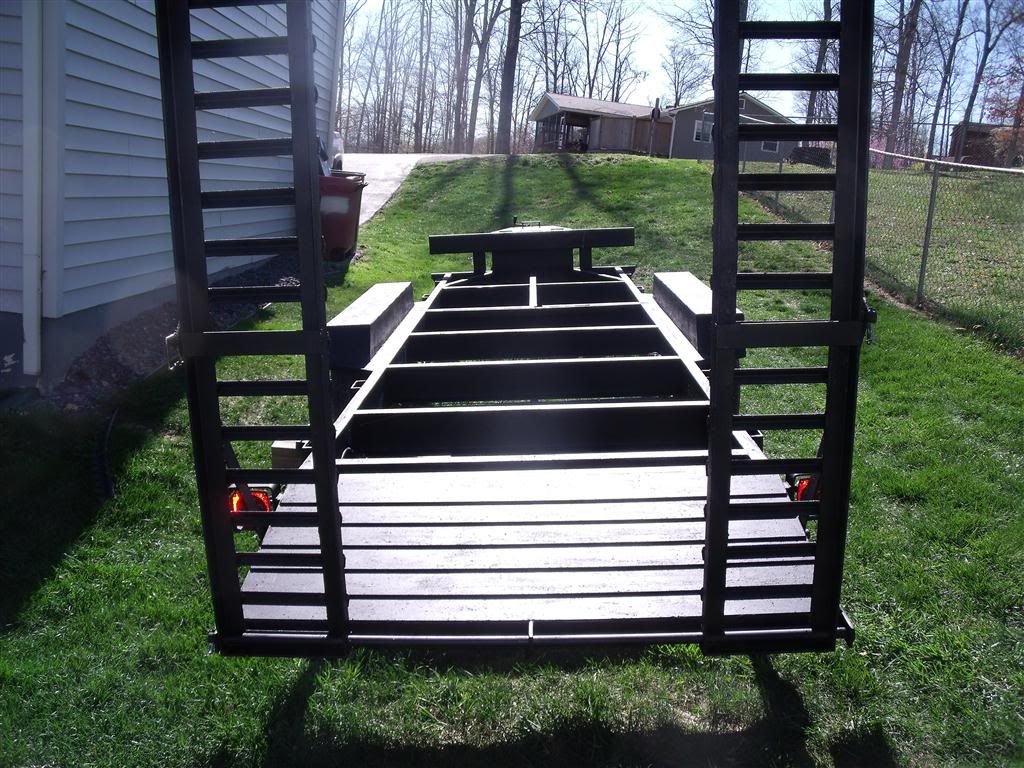 Mon Apr 02, 2012 7:26 pm
Gary:
That trailer is starting to look real good
Going to be a very nice and stout trailer when it is all done. Looking forward to seeing the finished project
Mon Apr 02, 2012 11:42 pm
The red oak will work if that is what you have, But white oak would last longer I think. I used pressure treated 2x8 on mine, cause our local mills were all shut down when I needed it
Tue Apr 03, 2012 5:29 am
Dale, hopefully a good treating of oil will help the oak last a while. There's a few mills around here that will deal with the "little guy" but even they aren't the best about going out and getting specific woods unless you are going to get at least 1,000 bd. ft. or more.
Tue Apr 03, 2012 6:37 am
Gary, keep us informed on how the bedliner coating works out. I find it to be a pain, trying to keep paint on the tongue and the front of the fenders, maybe bedliner is a good alternative.
Tue Apr 03, 2012 6:44 am
It seems to be real tough, I'm using the Duplicolor brand that has kevlar in it, for what it's worth... Like I said, for the price too, I can't complain if it doesn't last too long. The only thing that the instructions for the bedliner really stressed is that dry time is based on temperature/humidity and from what I've read on other forums that was the biggest complaint too, people having it peel off because it hadn't cured properly. The other big thing was ensuring the metal was properly prepped (scuffed up), and cleaned with xylol.
Tue Apr 03, 2012 6:48 am
gcbailey wrote:
Trailer is coming along nicely.
Just a suggestion on the wiring: Don't think I'd use wirenuts on an exterior application. You might look into using a more sealed connector (something with heat shrink tubing) to protect your electrical connections from dirt/moisture. You don't want to have to get down on your back and crawl under there to try and find a short or bad connection later on. Just a thought...
I like the undercoating; should seal real good.
Tue Apr 03, 2012 4:14 pm
I have actually changed that. I just had that for test purposes to make sure I could hear a "click". I went wild on harbor freight heat shrink tubing on that thing.