Tue Feb 01, 2011 10:23 pm
Been eye'n this tractor for a month or two now. The owner of it is never usually around when I stop to look at it, so I left my number and talked to him about it a while back. Well Saturday my Dad and I stopped by to look it over again, put a gallon of gas in it and touched the jumper cables to it and it fired right up. I finally decided I wanted it. I had driven a SC years ago and really liked it, and thought it was a cool little tractor, even though I currently own an M and an H. But I decided to buy it last Saturday, and picked it up last night. Still haven't got it out of the trailer, we got hit with a Blizzard last night/today. The only thing wrong with it is the 12v alternator isn't putting out any charge. I pulled it off today in the trailer and had my electric guy rebuild it. The conversion wiring is kind of hacked up so I'm going to give it a temporary fix in the trailer so I can unload it, then rewire it completely this spring.
Couple pictures from Saturday after test driving it.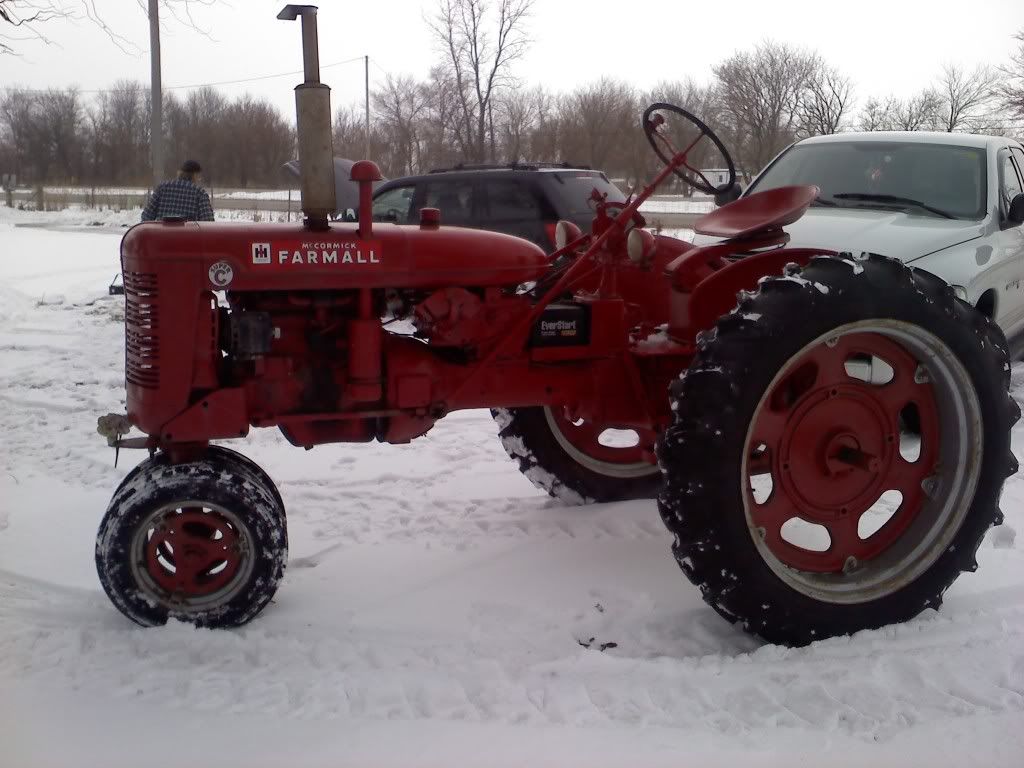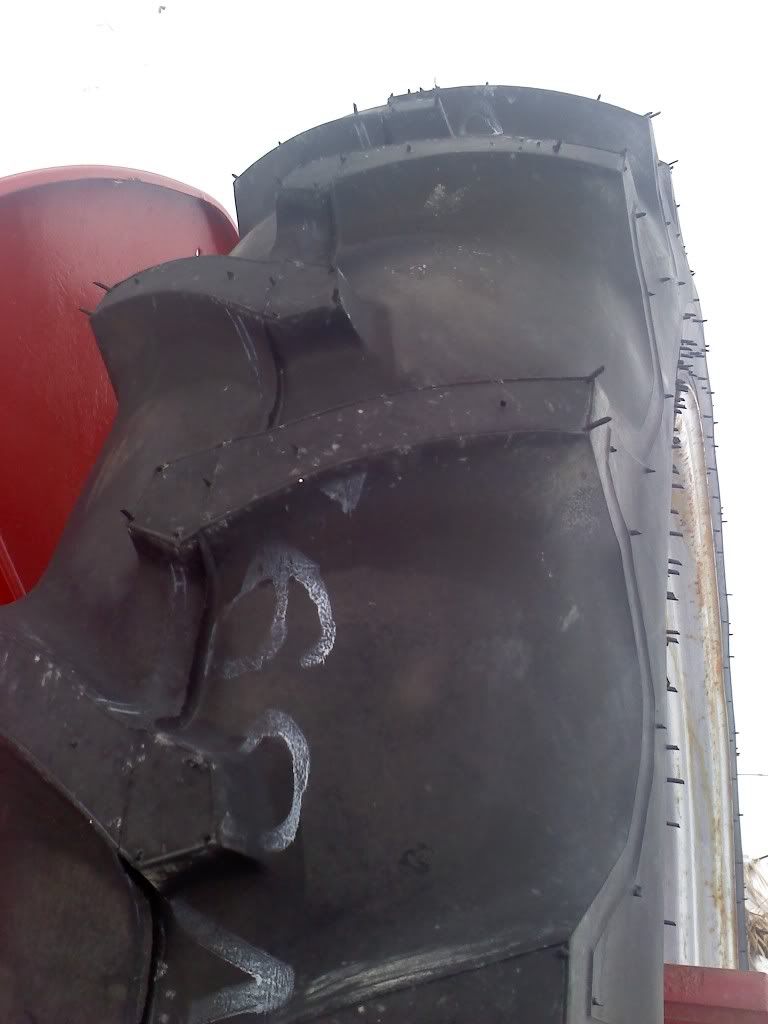 And loaded up at home in the trailer.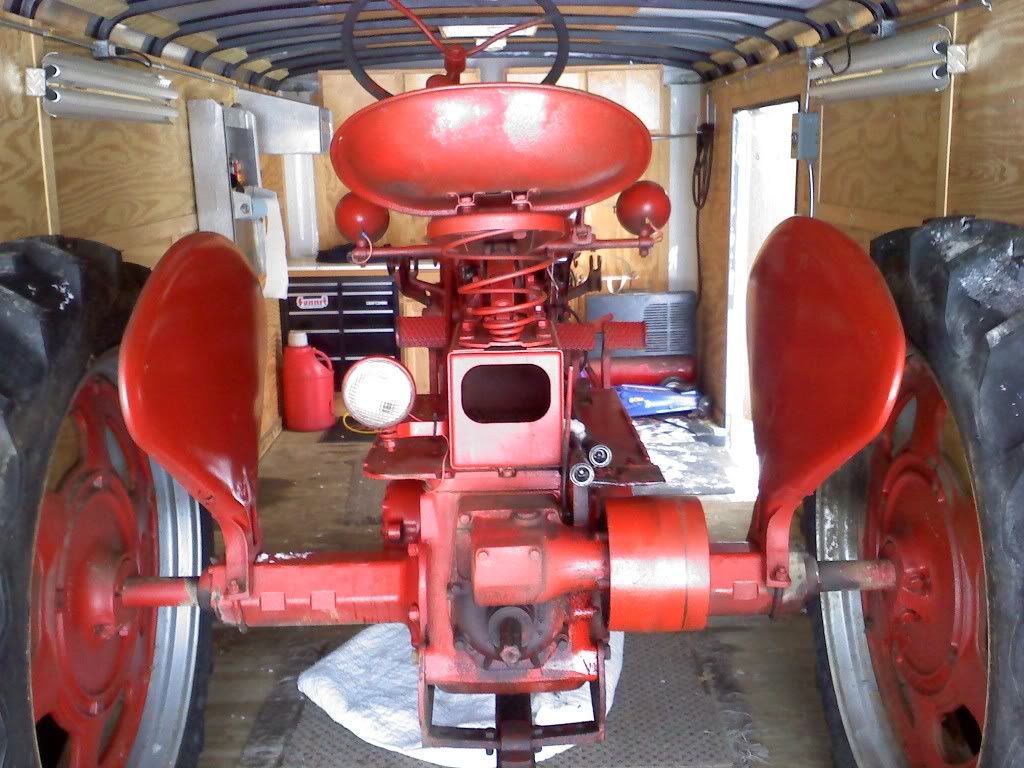 Tue Feb 01, 2011 10:32 pm
Very nice!!!!
Tue Feb 01, 2011 11:13 pm
Nice tractor. Fenders, good tires, hydraulic couplings......great find.
Tue Feb 01, 2011 11:38 pm
That is beautiful!
Someday got to have a Super C also
, and an A, M.......
Wed Feb 02, 2011 7:53 am
Nice tractor!
Wed Feb 02, 2011 8:17 am
Nice tractor.
Would love to see some photos of your trailer...Inside and out.
Wed Feb 02, 2011 9:08 am
Very nice. I sure do want one of those babies.
Wed Feb 02, 2011 12:14 pm
Nice ,my next tractor after my barn gets built!!kevin
Wed Feb 02, 2011 3:18 pm
Very nice looking tractor.
Wed Feb 02, 2011 3:35 pm
I owned a C for many years and loved that tractor (heck, I love all of the old iron) foolishly, I sold it several years ago, the dual hydraulics are great for plowing. I know you will enjoy it. It was great for sicle bar mowing also.
Berlin
Wed Feb 02, 2011 7:00 pm
Great looking Super C.
Thu Feb 03, 2011 12:37 pm
Nice looking Super C. Would love to get one for myself someday.
Thu Feb 03, 2011 1:15 pm
Great lookin' tractor!! Get the alternator fixed and she'll be ready to roll!!
Thu Feb 03, 2011 3:17 pm
Thanks a lot guys! I had my alt guy rebuild the alternator, tossed it on and it's charging. Only issue now is my 07 dated battery is junk and won't hold a charge. So I have to come up with a battery for it. Hand cranked it to get out of the trailer. First time I've ever done that. Was interesting to say the least.
Thu Feb 03, 2011 3:18 pm
I also want to change/flush all the fluids on it, because I have no idea when it was done last.

15w40 for the engine
Hytran for the Touch Control
80/90 for the trans/rear