Sun Dec 05, 2010 12:32 pm
All 3 of my Cubs have the overflow tube broken off and this may not be a correct police type fix it certainly worked and can be done with the hood on.Drilled a 9/64 hole in a 1/4 inch bolt and a jam nut on the outside of the neck.The bolt fits right in the broken tube and the threads help hold the tube in place.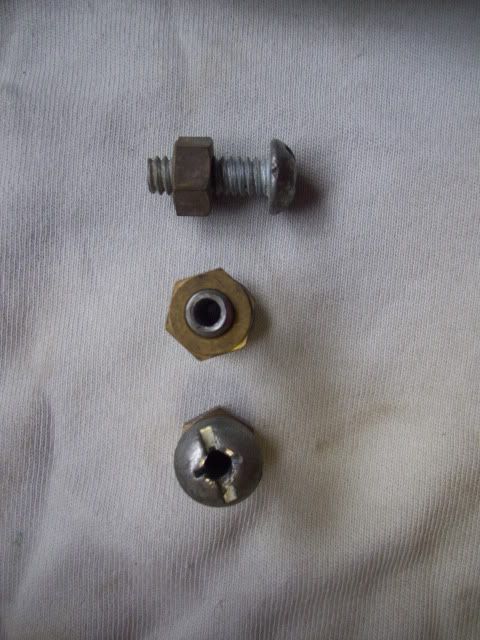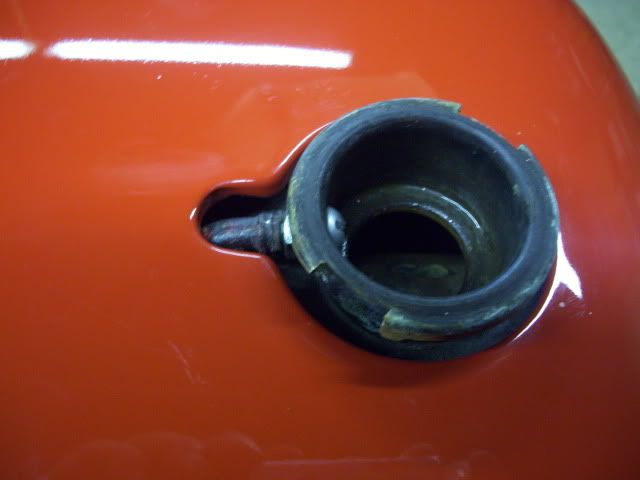 Sun Dec 05, 2010 12:48 pm
I like it! A nice fast fix for an annoying problem on so many cubs. A copper drain pipe or a rubber hose directing the water below the radiator is much preferred over no drain where water runs down the radiator and rusts the lower radiator bolts or is thrown back over the engine by the fan.
Sun Dec 05, 2010 1:19 pm
That I like Supper cool Why I did not think of it I will never know
have to give you an A + on this
Sun Dec 05, 2010 1:21 pm
Very good how to you've made there Bear.
I like it since there's no heating involved to add to the problem plus you can do this with the hood on.
I'll need to look mine all over and see if this is something that needs added.
Sun Dec 05, 2010 1:42 pm
That's an awesome idea!
Sun Dec 05, 2010 3:35 pm
I think that we might have found another Tip of the week! (Rudi!!)

I like farmer fixes because you need only ingenuity and basic skills...exactly my level!

Mike in La Crosse, WI
Sun Dec 05, 2010 4:22 pm
Just in case you are a butterfingers like I can be occassionally, you might want to slip a shop rag in the radiator opening just enough to keep a stray bolt from slipping from your fingers and falling in. Naturally you will want to remove the rag once the bolt is tightened.
Sun Dec 05, 2010 5:04 pm
Very ingenious, I like it
Sun Dec 05, 2010 7:20 pm
Looks like a neat idea, and mine is broken off at that same spot too. Only problem with that is I have a low pressure pressure cap and it would get in the way. Maby I could grind down the head of the scres some so the cap would go past. May have to try it this spring.
Sun Dec 05, 2010 9:21 pm
I aagree with boss. All these good ideas and fixes and I never thought of a one. My hat is off on this one and many others.
Sun Dec 05, 2010 10:07 pm
bear:
Very, very nice fix
A good was to use what you have hanging around.
Cub Tip of the Week! December 5th, 2010
Sun Dec 05, 2010 11:37 pm
mine is broken in the same spot, any tips or tricks to this? did you use a drillpress? what kind of hose are you using as the over flow tube
Mon Dec 06, 2010 11:55 am
I'm tired of soldering that copper tube, hoping it will stay in place. Thanks, Bear!! Sounds like a permanent fix.
Mon Dec 06, 2010 8:12 pm
If I were to place a rubber gasket inside the radiator fill tube would it have to be a special type due to the heat?

Todd
Thu Dec 09, 2010 4:40 pm
Gonna put this tip to use in another place. Crankcase ventilation on a Bobcat skid steer, Wisconsin VH4d engine. $41.00, air horn adapter, which simply fits between carburetor and the air cleaner to carburetor hose. Hose from crankcase fits into the side of the air horn adapter.

Air horn adapter, which is formed in one piece, broke. Replaced it. Broke again.