Moderator: Team Cub
Forum rules
Notice: For sale and wanted posts are not allowed in this forum. Please use our free
classifieds
or one of our site sponsors for your tractor and parts needs.
Jayhawk91

10+ Years

Posts: 14
Joined: Tue Apr 24, 2007 5:25 pm
Location: SW Iowa
I'd appreciate it if someone could tell me where to buy a IH1000 loader for my Cub.
Thanks All
---
Matt Kirsch

10+ Years

Posts: 4544
Joined: Tue Jun 08, 2004 3:04 pm
Zip Code: 14559
Circle of Safety: Y
Location: Rochester, NY
Welcome to the forum Jayhawk91!
Truthfully, if we knew where to buy a 1000 loader, we'd all have them
The 1000 loader is among the rarest, and most sought-after, Cub attachments of all time. It's also one of the most expensive. When one comes up for sale and the price isn't completely ridiculous, it's snapped up before you can say "1000."
I can only advise you to keep your eyes and ears open. Look everywhere, from the local papers, to regional farm publications, to internet sites like this one. With enough time you will find what you're looking for.
---
Jayhawk91

10+ Years

Posts: 14
Joined: Tue Apr 24, 2007 5:25 pm
Location: SW Iowa
---
George Willer

Cub Pro

Posts: 7013
Joined: Sun Feb 02, 2003 9:36 pm
Zip Code: 43420
Circle of Safety: Y
Location: OHIO, Fremont
Jayhawk91 wrote:2--What price range do they go for? I'm assuming more than the tractor itself!!

Thanks Again
The one I just got and am in the process of restoring cost exactly double what the tractor it will mount on cost. I expect to spend another $500 or so on it replacing hoses, re-building one cylinder, decals, and paint. It is already sandblasted and primed.
George Willer
http://gwill.net
The most affectionate creature in the world is a wet dog.
Ambrose Bierce
---
cjpenny89

10+ Years

Posts: 1073
Joined: Mon Feb 03, 2003 1:15 pm
Location: St. Charles, MI 48655
I think the post hole digger is the rarer of the 2! Check JP tractor and Wegners they usualy have some. I see them on the net from time to time from $1000.00 to $2500.00 usualy the higher.
Try and find a tractor and loader set up together sometimes that will be cheaper.
good luck! I would love to have one also and when I have found them at a good price there 1000 miles away!
"don't find fault, find a remedy"
1948 Cub, 1945 A, 1955 100
---
Rudi

Cub Pro

Posts: 28706
Joined: Sun Feb 02, 2003 8:37 pm
Zip Code: E1A7J3
Skype Name: R.H. "Rudi" Saueracker, SSM
Tractors Owned: 1947 Cub "Granny"
1948 Cub "Ellie-Mae"
1968 Cub Lo-Boy
Dad's Putt-Putt
IH 129 CC
McCormick 100 Manure Spreader
McCormick 100-H Manure Spreader
Post Hole Digger
M-H #1 Potato Digger
Circle of Safety: Y
Twitter ID: Rudi Saueracker, SSM
Location: NB Dieppe, Canada
Jayhawk:
First,
to the greatest forum on the internet, and to the Cub Family. You will find that all the folks on this forum are kind, helpful and just full of Cub info and knowledge. They also happen to be the finest folks I have ever met
Jayhawk91 wrote:I'd appreciate it if someone could tell me where to buy a IH1000 loader for my Cub.
Thanks All
The guys are right. The 1000 is not the rarest nor the priciest, but it is difficult to find and when found the competition can be fierce. I personally would love one, but I would buy a Cub with the Loader -- probably a lo-boy before spending that kind of cash on just the loader. They are available. Check the links below. Jamie at JP or Ralph may be able to help out, and Tom probably has a few leads on some as well. The trick is to get the feelers out without driving the price up because someone knows you want one badly. Gotta be disinterested but curious.. that usually works.
Ok, so here is the spiel
:
I would suggest that you read this thread:
New Members and Visitors, Please READ Prior to Posting
. There are many great links to informative pages such as the
ATIS FAQ's 1
and
ATIS FAQ's 2
,
The Best of H.L. Chauvin
who has written very interesting articles on troubleshooting common problems with your Cub. One of the other projects we have been working on and it will be a continuing effort is the
How To Work on Your Cub - Maintenance Tips and Techniques
. This the the place to go to get all the quick links to some very good articles written by many members of the forum on solving some of the problems we encounter as we repair, maintain and up-grade our Cubs. Keep looking for this to grow.
Also, you might want to visit the
Cub Manual Server
as there is tons of info on servicing, maintaining and re-building your Cub. In addition to this basic information, there are also a number of other useful tools available on the server. There is the
Specialty Services
page which has contact info for neat stuff like getting your seats recovered, buying quality Decals, Serial Number tags and a host of other neat items. Also there are the Parts Pages - both
Used Parts Suppliers
and
New Parts Suppliers
pages with links to quality dealers. I am always looking for
YOUR
favourite dealers for New and Used Parts to include here. These pages are intended to complement our Official
FarmallCub.com Website
Sponsors:
I would also recommend that you visit
Binder Books
and purchase the three most important manuals you can own for Maintenance, Repair and Rebuilding your Cub. These are the
Owner's Manual
, the
GSS-1411 Service Manual
and the
TC-37F Parts Manual
. Although they are available on the
Cub Manual Server
, it is better is you also have your own paper copy.
Binder Books
is the only Authorized IH Publication Reprint House and they have the best quality manuals available. Most other's are not of the same quality. Just a personal thought here, the
I&T Shop Manuals
, although helpful in some areas, really are not sufficient for the job. If you wish though, they are good additional reference works.
IF you really want to get the skinny on all things Cub, might I suggest you get a copy of
Ken Updike's Farmall Cub and Cub Cadet's
. While you are at it
Original Farmall Cub and Cub Cadet
is Ken's latest addition to the series. Along with
Guy Fay's Letter Series Originality Guide
, these are three must have's in anyone's collection.
In addition to the above information, don't forget to check out the various articles that are available to help with your Repair, Restore, Rebuild or just your Maintenance Projects. There are a number of sub pages such as
Electrolysis or Rust Zapper's
,
Maintenance Tips, Jigs and Techniques
,
Implement and Part Sketches
and of course the
Paint, Decals & Other Finish Questions
which has the Paint Chart and the Paint Committee Decisions links.
Oh, and while the program still lasts.. you might want to check the
Announcement: Navistar Free Gas Cap Offer - On-Line Form
thread at the top of the Cub Forum and send away for the new style safety cap before that program runs out as well.
I truly hope that you enjoy your Cub and that you will be a frequent contributor to the forum. Again,
to the Cub Family
Confusion breeds Discussion which breeds Knowledge which breeds Confidence which breeds Friendship


---
brian kov

10+ Years

Posts: 1002
Joined: Fri Dec 02, 2005 11:16 am
Location: wampum pa (western )
George, i did'nt know if you already found the decals or not . i just got mine from maple - hunter . they seem pretty close to orig. the only difference i found was it says international 1000 loader and my orig decals , although painted over a bit , say international 1000 no loader i am not sure which way it should be . kinda like the tachometer gauge decals from bates corp but those are way off , completely differant style of lettering and a couple other differences . just thought i would let you know .
1955 intrnational lo-boy w/ fasthitch, 1960 farmall cub w/fathitch .fasthitch moleboard ,disk,carryall rotovator,54a blade,I.H. 1ooo loader , Syms all wheather cab. PROUD MEMBER OF THE 500 CLUB LO-BOY THAT IS . 1972 154 lo boy
---
Robert

10+ Years

Posts: 66
Joined: Sat Apr 14, 2007 7:19 pm
Location: Johnston, R.I.
JP had one last week. I don't know what they are asking. I payed $225 for one back in October, and $700 for one in January. I've seen them as high as $2500 but I dont' consider them that rare. If you want to pay, you can almost always find one. From October to March, I personaly went and looked at 11 different ones for sale. All International 1000's and all over $1200
---
Buzzard Wing

Cub Pro

Posts: 10503
Joined: Mon Aug 09, 2004 10:14 pm
Zip Code: 02840
Location: RI, Newport
Wow another Rhode Islander... Now we are 3 or so.
George, the decals I saw from Maple Hunter looked perfect to me and the guy that has them is happy with them (also in RI). He is a TM customer now, I did try to convert him a bit more than a year ago, but he came to it on his own. He has about a dozen Cubs including this one, tough to get a good picture in a box: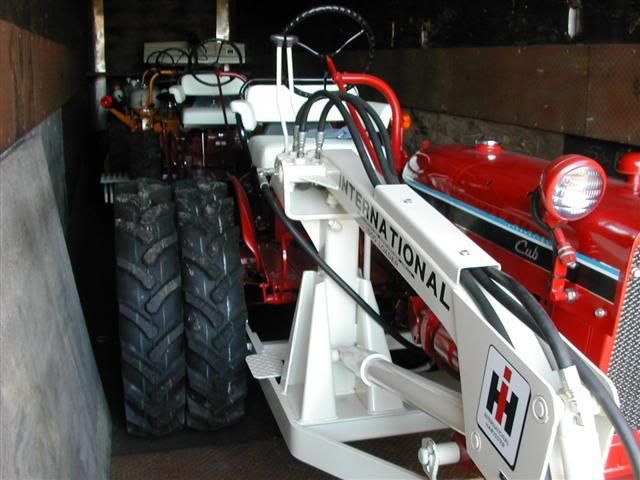 I think he has 2 1000 loaders.
Like any implement, always better to get the tractor attached to it, but sometimes they are pretty rough!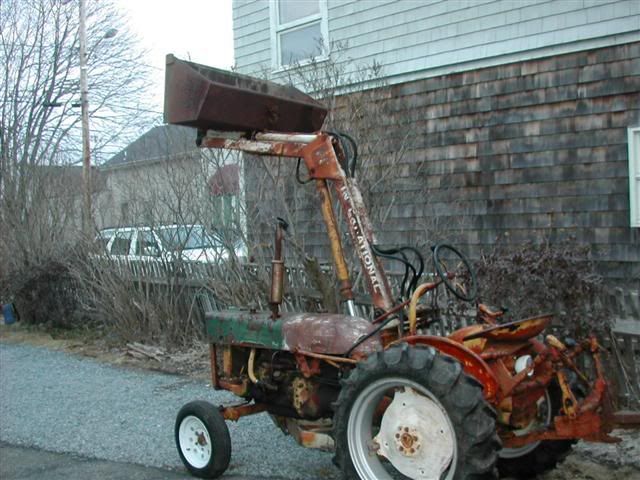 1971 Cub (Rufus) 1950 Cub (Cathy) 1965 Lo Boy Fast Hitch (Nameless III) 1970 Cub 1000 Loader & Fast Hitch (Lee)
---
Robert

10+ Years

Posts: 66
Joined: Sat Apr 14, 2007 7:19 pm
Location: Johnston, R.I.
I worked on that cub in the box as well as all the others you must have seen over there. That cub I picked up at JP's in October right after picking up the loader in North Carolina. Thats the only loader I have restored presently. I only work on them from November to February. Come buy in December when I,m right in to it, if you want to see a lot of cub action.
---
Buzzard Wing

Cub Pro

Posts: 10503
Joined: Mon Aug 09, 2004 10:14 pm
Zip Code: 02840
Location: RI, Newport
Robert, you do nice work! And Al does have a mess of em. You did a great job on the loader.
I will be by in the winter....
I should also be able to start work on that Lo Boy by then
The loader works fine, but the tractor is pretty rough. Really didn't have a plan when I bought it. But I have it now
It came from the Poconos.
1971 Cub (Rufus) 1950 Cub (Cathy) 1965 Lo Boy Fast Hitch (Nameless III) 1970 Cub 1000 Loader & Fast Hitch (Lee)
---
---
Similar Topics

Replies
Views

Last post
Who is online
Users browsing this forum: BIGHOSS, Gary Dotson, jpcubs, Lee_Petrie, tnestell and 6 guests