Sun Jul 20, 2014 9:14 am
So I was looking at these old photos of the Fairchild XC-120 "Packplane" and I noticed in a photo that keeps reappearing is a tractor. It looks like a Farmall by the way the sheet metal bump across the side of the hood goes up in a rounded fashion in the front. How on the letter series it curves up around the logo (Super A, C, H, ect). The XC-120 was developed from the C-119 "Flying Boxcar" which first went into production in 1947. Only one XC-120 was ever built/flown. It first flew August 11, 1950.
I'm thinking its a W-6. Made from 1940-1953 so it would seem to fit within the time period. What do you guys think?
Sun Jul 20, 2014 9:54 am
Cool aircraft! Great photos.

It looks to be some type of industrial tractor and I would guess a smaller one than a W-6. Farmall was used on farm tractors and 'McCormick-Deering' and 'International' was used on the 'industrial' tractors.

Possibly a I-4, which is related to the Farmall H??
Sun Jul 20, 2014 10:46 am
I said "Farmall", but yeah, it would be "International" or "McCormick-Deering". I simply meant that as "Its an IH" haha.

It could definitely be and I-4. But, weren't those painted yellow? or were some painted both yellow and red? I say this because in the picture its not yellow, but could be red. Even in black and white yellow tractor would be much lighter in appearance.
Sun Jul 20, 2014 11:21 am
I agree with I4. Check out this pic I found over at YT. Looks like the one in your pic has the same or similar front end shield.
Sun Jul 20, 2014 10:09 pm
The low-rider seat would make it an airport tug,--at least the ones I have seen are!
GREAT PIX!!!! thanks; sonny
Mon Jul 21, 2014 8:19 am
Yep Havoc, I knew what you meant but just wanted to clarify. When I tell people I mow Ft. Adams I call the Lo Boy a Farmall and they understand, Lo Boys were always 'International'.
Odd coincidence, couple of brothers I know were having a tractor show over the weekend and one of them owns a 'Shop Mule'. It is made by W.F Hebard and is badged 'International Harvester Powered' . Has the two piece front rims too. He did a great job restoring it.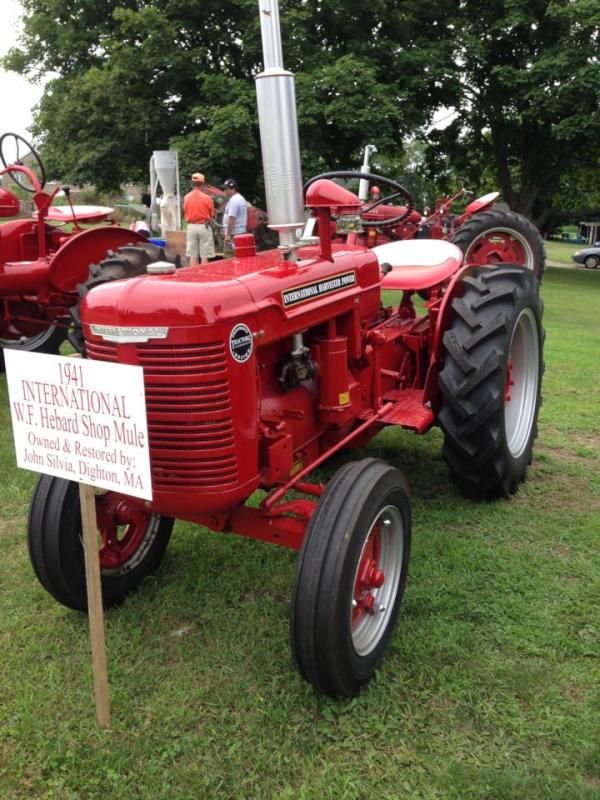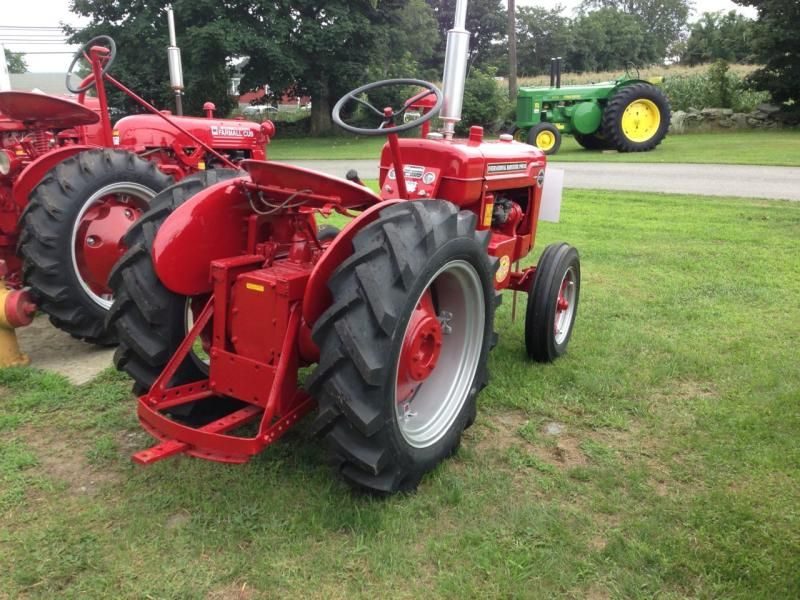 Fri Jul 25, 2014 10:00 am
Is that picture above showing up for anyone else? It seems I've been having trouble getting pictures posted. I can see them but no one else can.
I guess I need to re-learn how to post pics!
Here is a link to the thread where I found it ...
http://forums.yesterdaystractors.com/ttforum/viewtopic.php?p=2776477&sid=a16de9862f1f3b8d462549d7f7b84480
Fri Jul 25, 2014 10:48 am
Hard to tell from that picture. But my best guess is an I-4. It doesn't look quite big enough to me to be 6-series. I tried looking for a better picture and couldn't find one. In the process I found this arguably more interesting picture. The tug looks like it might be an early (Farmall F-12 based) Shop Mule. Maybe not, as many WWII vintage tugs looked a lot alike. This came from a Yahoo page written in Japanese, so all I know is what can be seen in the picture.
You do not have the required permissions to view the files attached to this post.
Mon Sep 22, 2014 2:43 pm
The xc120 used 2 Pratt R-3460-20 3,500hp. This is one of the planes that gave Cessna engineers the idea for the Cessna Skymaster front and back (push-pull) design.
Del
http://www.youtube.com/watch?v=Ecr7u-Z1Q3Y
Mon Sep 22, 2014 4:12 pm
Trent M wrote:Is that picture above showing up for anyone else? It seems I've been having trouble getting pictures posted. I can see them but no one else can.

I guess I need to re-learn how to post pics!

Here is a link to the thread where I found it ...

http://forums.yesterdaystractors.com/ttforum/viewtopic.php?p=2776477&sid=a16de9862f1f3b8d462549d7f7b84480
When you say "above" are you meaning in an earlier post or did you try to post a picture within this post? The earlier post no. This is one of the pictures from yesterdays tractors. Vern