Moderator: Team Cub
Forum rules
ALL CubFest discussion posted in other forums will be moved to this forum without advance notice.

IMPORTANT NOTE: CubFest organizers -- Notify a TeamCub member or the ADMIN (Dennis) to "Sticky" your event announcement in this forum.
railroad0630

5+ Years

Posts: 27
Joined: Thu Feb 09, 2012 7:57 pm
Zip Code: 37659
eBay ID: Railroad0630
Tractors Owned: 1964 Farmall Cub
1940 H Farmall
Location: Jonesborough, TN
Amen, Totally agree 100%!!!
---
ricky racer

10+ Years

Posts: 4440
Joined: Wed Sep 12, 2007 8:40 pm
Zip Code: 49120
Circle of Safety: Y
Location: Niles / Buchanan, Michigan
When you stop feeling that lump in your throat, that's when you should worry.
1929
Farmall Regular
1935
John Deere
B
1937
John Deere
A
1941
John Deere
H
1952
John Deere
B
1953
Farmall Cub
---
JRICK

5+ Years

Posts: 192
Joined: Tue May 24, 2011 12:26 pm
Zip Code: 29325
Skype Name: JRICK
Tractors Owned: 1940 Allis Chalmers WC
1949 Farmall Cub "Haydee Bug"
1960 Massey Ferguson Diesel Deluxe
1950 Allis Chalmers "B"
1980 Power King Model 1616
1991 400A Belarus
1952 Massey Harris Pony
Circle of Safety: Y
Tezell, You are not alone!
---
Jim Reid

10+ Years

Posts: 1125
Joined: Fri Jan 30, 2004 10:51 am
Location: East Bend,NC
One of my grandsons played legion baseball this summer when we played in Salisbury,NC there was a world war two veteran that played the national anthem on the bugle he could barely walk and was short on wind but it still brought a tear to a lot of eyes.

Jim
---
Hengy

10+ Years

Posts: 7148
Joined: Sat Feb 18, 2006 8:12 pm
Zip Code: 15101
eBay ID: lacrosseorgans
Skype Name: Mike.Hengelsberg
Tractors Owned: 1949 Cub "Merlin"
1955 Cub "Lewis"
Cub Trailer
A-60 Blade
Cub-22 Mower
193 Plow
Circle of Safety: Y
Location: PA, Allison Park (Am Hengelsberg)
Having sung the National Anthem at a couple of events over the past several years, I can say for sure that it is tough to get through without a lump in your throat...and not from the range of the song. I feel it is an honor beyond all honors to be able to sing this when I have the chance...

I guess it is a thing called "national pride!"...

Mike in Gibsonia, PA
Mike (Happy as a Lark in Allison Park, PA)
Check out my Restoration Thread (1955 Cub, Lewis)
---
John *.?-!.* cub owner

Team Cub Guide

Posts: 22973
Joined: Sun Feb 02, 2003 2:09 pm
Zip Code: 63664
Tractors Owned: 47, 48, 49 cub plus Wagner loader & other attachments. 41 Farmall H.
Location: Mo, Potosi
I definitely am not a Democrat, nor do I really qualify as a Republican either, but comments about disliking our commander in chief do not belong on this site. As to a further note, I d id some research a few months ago on the photos supposedly showing President Obama being disrespectful during the national anthem, and even I could tell they had been Photoshopped. When you dislike someone do not jump at every thing that shows up slamming them. Make sure it is correct. As to my personal feeling, I do not like any national politician, but will not slam them on this forum.
If you are not part of the solution,
you are part of the problem!!!
---
tmays

5+ Years

Posts: 2573
Joined: Wed May 11, 2011 8:59 pm
Zip Code: 39180
Tractors Owned: 1948 Allis Chalmers G
1947 Cub
1952 Cub

154 Cub LoBoy
Location: Vicksburg, MS
Here you go Mr Russ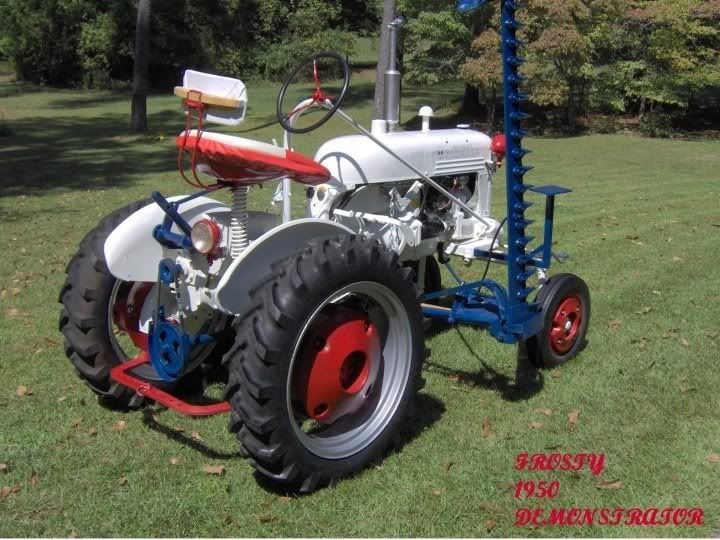 Thomas
---
---
Return to "CubFest and Tractor Show Announcements & Discussions"
Who is online
Users browsing this forum: No registered users and 1 guest