Mon Dec 02, 2013 8:53 pm
A bit of bad news with JR. Yesterday he missed the last step coming off the combine and fell about 3 feet onto the concrete shop floor and broke his leg. They initially thought it was a broken hip but turned out it was a split in his leg bone as it comes down from the hip. Had to have surgery and they put a rod in the leg with bands to keep the bone from splitting more. All was going well till about 2200 last night when JR had a stroke. So far his right side is numb and tingly as he says and he has pretty slurred speech and its hard to understand him. They had a speech therapist in today and I haven't heard how that came out. When I was in this morning, they had just had him up and his leg was really hurting so I didn't stay too long. Will keep you posted but wanted to let you know what happened. He still says he's coming to DSCF but we'll have to see how all this goes as he isn't supposed to stand full weight on it for at least 5 or 6 weeks. More to follow.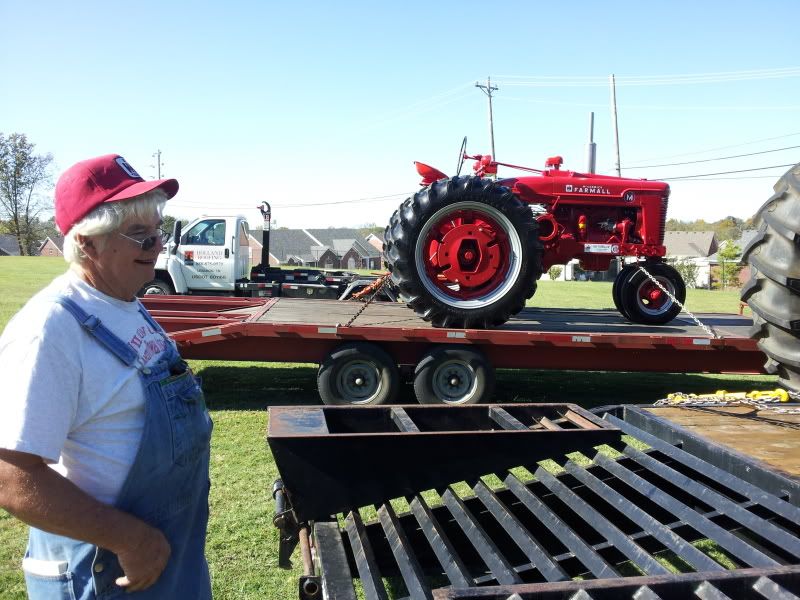 Mon Dec 02, 2013 9:15 pm
Thanks for letting us know Steve. We will pray for a speedy recovery and hope to see him at DSCF.
Mon Dec 02, 2013 9:23 pm
Barnyard wrote:Thanks for letting us know Steve. We will pray for a speedy recovery and hope to see him at DSCF.
sure hope things go well with him, Steve. Keep us posted.
Mon Dec 02, 2013 9:58 pm
Prayers from Pa.
Mon Dec 02, 2013 10:49 pm
Steve, Give JR our regards and tell him to hang in there and get well soon.

Bob
Tue Dec 03, 2013 5:58 am
Thoughts and prayers.

Hoping for a speedy recovery.
Tue Dec 03, 2013 7:48 am
Sorry to hear about this unfortunate incident! Be sure to let him know that we're pulling for him and hoping to see him at Deep South.
Tue Dec 03, 2013 8:26 am
We will keep JR in our prayers and hope to see him in Florida.
Wed Dec 04, 2013 7:24 pm
Thanks everyone for the notes and the prayers for JR. He is now out of intensive care and they had him sitting in a "hospital chaise lounge" type chair today. He's still awfully sore from the surgery but his speech has REALLY improved and his grip is coming back in his right hand! I make him squeeze it as hard as he can when I leave and he really put the vice grips on today so that was sure a good sign. Will find out tomorrow how they are going to do rehab as he will have to contend with the mended leg and the effects of the stroke but believe he'll tough it out! He said to pass on to everyone he really appreciated the notes! More to follow!!
Wed Dec 04, 2013 9:14 pm
Great news, Steve. Tell him "howdy" from all of us.
Sat Dec 07, 2013 2:11 pm
Great progress the last couple of days. JR's speech is MUCH improved and he is gaining a real grip in his right hand although he says his fingers feel numb and tingly. The therapists had him up this morning with a walker and he made it out of the room to the nurses station and back to his chair. Said it hurt like the dickens but was easier than yesterday. He will probably move to a rehab center here in Lebanon either tomorrow or Monday where he will be for probably a couple of weeks depending on progress. The doctors want him to get stronger and off the blood thinner. They want to take him to either Vanderbilt or St Thomas to do some heart scanning to see if they can find heart damage or a cause for the clots but no panic! He said he "sure would like to be home for Christmas" but not sure that will happen although that totally depends on his progress. Thanks for all the prayers and notes and he said he sure did appreciate it!
Sat Dec 07, 2013 3:32 pm
I am glad to know that he is improving and he will be in my thoughts and prayers . Thanks for the update .

Berlin
Sun Dec 08, 2013 8:19 am
Thanks, Steve! It's great to hear a positive report! Let him know we're all pullin & prayin for him.