Gary Dotson wrote:TP is well known for top quality cabinets and their service on parts & supplies is second to none.
ScottyD'sdad wrote:Tp makes top quality stuff, and are good to deal with. Ed
Gary and Ed - There is no doubt in my mind on that! When I was looking over there website Sunday I decided to get the caster assembly so I can move it around to clean and such.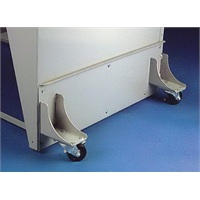 I could have made a set, but they would never look like they belonged so I gave TP a call. I first talked to the lady about 1:30 yesterday afternoon to place the order. They have a standard set and an extra high set. Thinking that since I have the extra high cabinet, I needed the extra high set. After I got the email confirmation I notice that the extra high set actually meant that it raised the cabinet an extra height and not actually needed for the extra high cabinet. I called back at 2:15 and the lady confirmed that was the case. She said there was no problem and made the change and sent my new confirmation. A couple hours after that I received a UPS tracking number.
This morning I checked the tracking number and saw this:
Just awhile ago the dogs started carrying on so I went out to see who was here. When I got to the door I saw the brown truck headed out the drive and my package was by the garage door.
Hard to believe the order went out yesterday afternoon and they got it on a truck before they closed. Start to finish in less than twenty four hours. I like this outfit.