Moderator: Team Cub
Mr Ziffel

5+ Years

Posts: 163
Joined: Thu Jan 06, 2011 10:56 am
Zip Code: 20106
Tractors Owned: 1950 Cub with 193 plow, snow plow. Woods 59 mower. unknown disk, John Deere spring-tooth harrow, 2009 New Holland T1510, Massey Ferguson Mod 25 Disc (I think)
Circle of Safety: Y
Location: Virginia
---
Rudi

Cub Pro

Posts: 28706
Joined: Sun Feb 02, 2003 8:37 pm
Zip Code: E1A7J3
Skype Name: R.H. "Rudi" Saueracker, SSM
Tractors Owned: 1947 Cub "Granny"
1948 Cub "Ellie-Mae"
1968 Cub Lo-Boy
Dad's Putt-Putt
IH 129 CC
McCormick 100 Manure Spreader
McCormick 100-H Manure Spreader
Post Hole Digger
M-H #1 Potato Digger
Circle of Safety: Y
Twitter ID: Rudi Saueracker, SSM
Location: NB Dieppe, Canada
I loved it... great little video.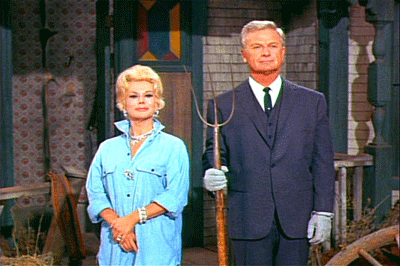 Green acres is the place for me.
Farm livin' is the life for me.
Land spreadin' out so far and wide
Keep Manhattan, just give me that countryside.
New York is where I'd rather stay.
I get allergic smelling hay.
I just adore a penthouse view.
Dah-ling I love you but give me Park Avenue.
...The chores.
...The stores.
...Fresh air.
...Times Square
You are my wife.
Good bye, city life.
Green Acres we are there.
And I miss the show.. class program.
Confusion breeds Discussion which breeds Knowledge which breeds Confidence which breeds Friendship


---
Mr Ziffel

5+ Years

Posts: 163
Joined: Thu Jan 06, 2011 10:56 am
Zip Code: 20106
Tractors Owned: 1950 Cub with 193 plow, snow plow. Woods 59 mower. unknown disk, John Deere spring-tooth harrow, 2009 New Holland T1510, Massey Ferguson Mod 25 Disc (I think)
Circle of Safety: Y
Location: Virginia
Yup, me too Rudy. I met Ed Albert once in Washington DC.
He was in town for a charity event. We shook hands and he asked me for
some directions. Was an honor.
No guys he did not ask how to get to Pixley or Hooterville.
The following part of his bio is taken from Wikipedia
Prior to World War II, and before his film career, Albert had toured Mexico as a clown and high-wire artist with the Escalante Brothers Circus, but secretly worked for U.S. Army intelligence, photographing German U-boats in Mexican harbors.[4] On September 9, 1942, Albert enlisted in the United States Navy and was discharged in 1943 to accept an appointment as a lieutenant in the U.S. Naval Reserve. He was awarded the Bronze Star with Combat "V" for his actions during the invasion of Tarawa in November 1943, when, as the pilot of a U.S. Coast Guard landing craft, he rescued 47 Marines who were stranded offshore (and supervised the rescue of 30 others), while under heavy enemy machine-gun fire.[5]
---
v w

5+ Years

Posts: 1001
Joined: Thu Jun 10, 2010 6:56 am
Zip Code: 49053
Circle of Safety: Y
Location: Galesburg, MI
---
---
Similar Topics

Replies
Views

Last post
1
260
by

John *.?-!.* cub owner


Tue May 10, 2016 9:19 pm

Who is online
Users browsing this forum: No registered users and 1 guest