Fri Dec 26, 2008 4:36 pm
to what Don said. Those are nice doors.. are they Knotty Pine? I built doors similar...
guess great minds think alike.
Don McCombs wrote:Rob,

I really like those doors. How about a close-up shot?
By the way, that is one heck of a barn.. I like it a lot. Very cool.
Fri Dec 26, 2008 5:38 pm
yes rudi, they are made of pine. i really like the looks of them. we plan on putting a insulated roll up door on the inside to help keep the heat in. i'll post some closeups of the door tomorrow.
Sat Dec 27, 2008 6:12 pm
i'll try for a better pic later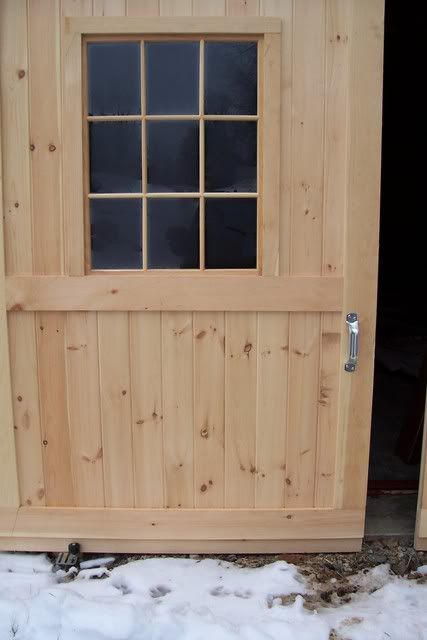 Sat Dec 27, 2008 6:29 pm
if you put that foam weather stripping on the edges, it will knock out the draft. be just as good as a roll down door.
Sat Dec 27, 2008 6:33 pm
i'll give that a try too.
Sat Dec 27, 2008 8:29 pm
Rob:

I used to have an overhead style garage door, and it left my cabinet shop so cold, it cost a lot to heat every winter. Since I have replaced that old wooden overhead door and put 1/2" plywood cladding on the shop itself, I have found that my cabinet shop is much much warmer and I haven't even started heating often. I only heat when I am working in the shop. There is only one day so far that the temp in the shop was -1C and we have had some pretty cold winter days already. My door is made from 2"x2" nominal stock with 1-1/2" styropfoam insulation, 3/4" knotty pine exterior cladding and 1/4" OSB interior cladding. Weather stripping around the whole door and they swing inwards. Eventually they may have storm doors, but not sure yet.
Sat Dec 27, 2008 10:13 pm
rudi, i figured your doors where insulated just by the way you had built them, nice job. the reason why i want a roll up door on the inside is because of the radiant heat in the floor. i think i would lose too much heat without them. i just had a new door installed at my garage and their is so much diference the new and old door that i wish i would have done it a few years ago. the new door has a r15 insulating value. it should make a huge difference this winter.
Sat Dec 27, 2008 10:26 pm
Rob:

You gave me an idea...

Could you take pics of the side view of your doors? I like the design, but I also like the idea that they are sliders and seem to be low profile as well. Curious as to how you did it. Very interesting reminiscent of Dutch Farm House doors.. I like.
Sun Dec 28, 2008 2:46 am
PB, my doors hinge out verses in. I also have 1 pair of sliders. On each set of doors I have 1 that has a back lip of 2 inches to cover the gap in the center. I then use the 1 inch foam weather stripping on all the edges that touch when it is closed. I don't imagine the R factor is as good as a well insulated roll down door that seals properly. However the draft between the doors is what generally makes it feel cold. I also have a wood stove verses radiant heat in the floor. So with in an hour of starting the wood stove everything is warm.

A lady that buys all of my hay, has a barn that is 20x40. She has the radiant heat in the floor. It works great until it doesn't work. She keeps a bunch of reptiles and birds in it. About a month ago it stopped working. She called me in a panic. It stopped working at 7pm the night before. It only had an air bubble in the system which we had to flush out(what a wet pain in the, well you know). The temperature dropped to 72 degrees, not sure how cold the concrete and ground got. Anyway it took 18 hours of non stop running to get back to 84 degrees. Moral of the story, if you do not keep it at a constant temperature, it will never heat up fast enough to warm your shop to use in a few hours.
Sun Dec 28, 2008 6:52 am
Wow,
I could live in there.
Sun Dec 28, 2008 4:16 pm
rudi, here is a pic of the side of the door , i'll take some better ones and you can take a look at my photo bucket site, ithink that will be better than to post a bunch here. i dont want to slow everything up.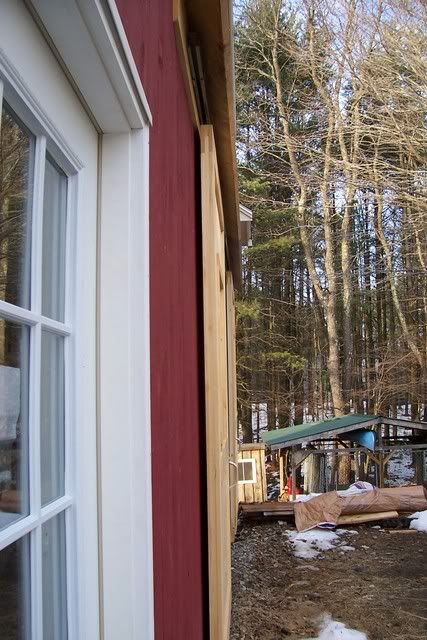 Sun Dec 28, 2008 4:19 pm
smig, i not sure when i'll do the radiant heat as the boiler is about 2grand and that is low on my list. i plan on a wood stove for now.
Sun Dec 28, 2008 5:03 pm
Rob:
If you have access to mixed hard and softwood for the wood stove, I think you will find that the wood stove may be the better option. I am very happy with my wood furnace, and if I could have used a wood furnace in my shop I sure nuff would have. However, because it was a commercial business an highly flamable liquids were present (usually sprayed), an open fire was out of the question for insurance coverage. They did allow me to have a propane forced air system which was kind of weird, cause the pilot light was open..
... Oh well.. that is life.
I do have an older Enterprise that was in the old house that was on the property when we bought it. It is stil over at my father-in-laws place. I am thinking on putting that in the pole barn to help heat.. should be economical as well as warm once it is insualted.
I do like the Tenons for the rails and stiles.. nice work
Tue Jan 06, 2009 10:49 pm
Great looking doors.
Fri Jan 30, 2009 3:07 pm
Looking Good!