Cherry Cordial Chocolate Souffle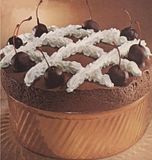 Chocolate Cordial Cherries
1 Tablespoon Brandy or Rum
10 Maraschino Cherries with Stems
8 (1 ounce) squares Semisweet Chocolate
Pour brandy or rum over cherries in a small bowl, turn cherries a few times and place in freezer.
Melt chocolate squares in small bowl over hot but not boiling water.
Remove cherries from the bowl. Holding by the stem, dip one at a time into melted chocolate, coating each cherry completely. Place on wax paper and refrigerate.
Souffle
8 Eggs
1 envelope Unflavored Gelatin
1/4 cup Water
1 cup Milk
1/2 cup Sugar
1/2 teaspoon Salt
Remaining melted chocolate
Remaining Liquid from Cherry Cordial bowl
1 teaspoon Rum Extract
Whipped Cream or Whipped Topping
Prepare an ungreased 5 to 6 cup souffle dish. Make an extension by folding a 25 inches long piece of wax paper in half lengthwise; wrap it around the outside of the dish so that you have a 3 inch collar standing above the dish; hold in place with string, paper clip or tape. (Brush the collar with butter and dust with sugar so that the souffle won't stick to it.)
Soften gelatin in water in a cup.
Heat milk slowly in a medium size saucepan until bubbles start to appear around edge.
Separate eggs, putting whites in a large glass bowl and yolks in a medium size glass bowl.
Beat yolks slightly with 1/4 cup of sugar. Pour the hot milk into the yolks and beat them, then pour this mixture into the saucepan and cook over low heat stirring constantly until custard starts to thicken and coats the spoon. Remove from heat, stir in softened gelatin, until melted; add rum extract. Put back into the bowl.
Add the remaining melted chocolate and the remaining liquid from the cherry bowl into the yolk mixture; beat until smooth. Place bowl into a larger bowl partly filled with ice and water. Chill at room temperature, stirring often, just until it is as thick as an unbeaten egg white.
Beat egg whites until foamy white and double in volume. Add remaining 1/4 cup sugar, 1 tablespoon at a time, beating until meringue stands in firm peaks.
Beat about 1/4 of meringue into the thickened chocolate mixture. Fold remaining meringue into the chocolate mixture until no streaks of white remain. Spoon into prepared souffle dish. Chill until firm (several hours).
Just before serving, carefully remove the wax paper collar, garnish with whipped cream or whipped topping and the chocolate cordial cherries.
ENJOY!!
This is a cold souffle (not baked), so technically it is not a souffle but a stiffened Mousse. I think it would make a really nice dessert for Valentines Day!
Thanks; Virginia