Wed May 01, 2013 8:30 pm
Finally picked our first asparagus today. Last year we were picking in late March. With the high today of 86 we will be picking for a while unless it turns cold again. Vern
Wed May 01, 2013 9:08 pm
Sounds good!---I love that stuff!!!---I only found a couple spindly spears out here in our row! thanks; sonny
Wed May 01, 2013 9:44 pm
Been cutting asparagus for a couple of weeks. Has been taking a week to collect enough for a meal. Today picked enough for a meal and some left over. Will be giving some away to neighbors shortly.
Thu May 02, 2013 7:25 pm
I have a farmer that rents my land, today he began to set a 3 acre piece. He is installing a drip irrigation line through the field, said it will greatly increase the yield. We have just started picking here this past week.
Fri May 03, 2013 8:40 am
Had my first taste the other day. All from one plant, the others are starting to kick in. I should plant some more in the bed, these are over 20 years old but still good producers.

Best thing you can plant!
Fri May 03, 2013 9:19 am
I counted about 7 sprigs yesterday.
This is the first year we are going to eat some, having planted it 2 years ago.
I hope we get a bunch.

Thackery
Fri May 03, 2013 8:24 pm
Here are a few pictures of the planting process. The drip irrigation is laid in the furrow and then the roots are placed in on top of that. The roots are then covered by hand and top dressed with fertilizer. This field that is being planted, was my families asparagus field as I was growing up. I was very pleased when a friend who is a farmer asked about a long term rental agreement so he could plant asparagus on part of the field.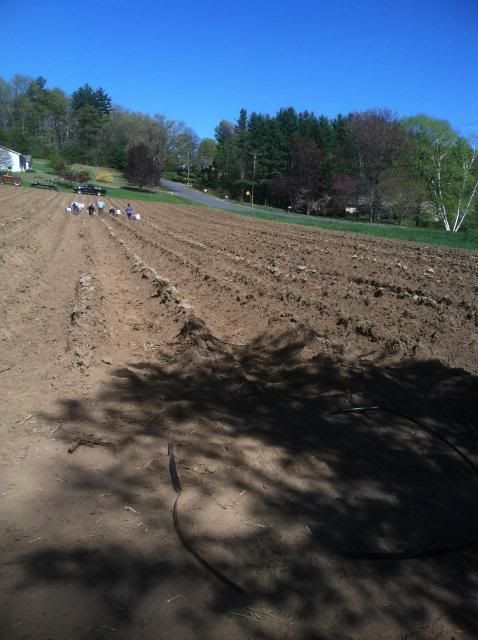 The field used to go all the way up the hill to the woods, until I built a house here about 28 years ago. The Super A is being used to pull the drip irrigation through the furrows.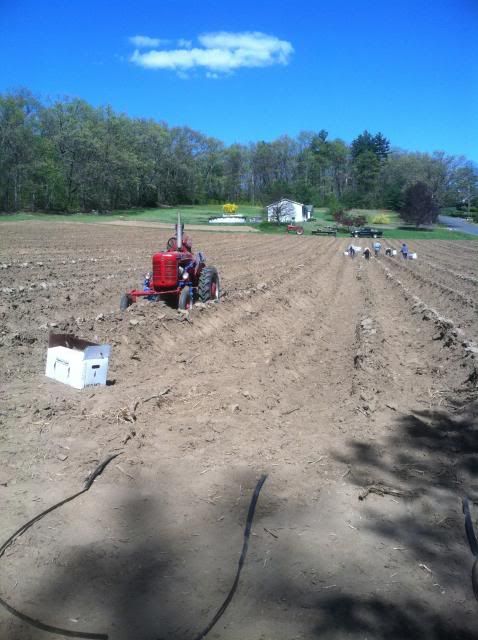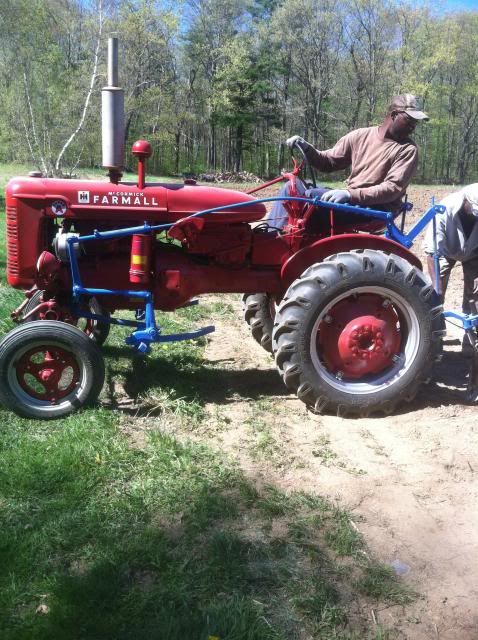 This SA came from my friends fathers farm. It has been in his family since new. This past winter it had a complete restoration done by him and his shop mechanic. It will be three years before he does a complete season of harvesting, this allows the roots to establish themselves.
Sun May 05, 2013 9:18 am
Interesting to see a big operation getting the field planted. Thanks for posting the pictures Joe.
Looks like you will have some good snacking in a couple of years.
Sun May 05, 2013 11:21 am
This crew is so efficient at planting and a hard working bunch that they make extra cash planting fields for other farmers on their days off. The price for planting a acre of asparagus is between 3500 and 5000. That includes all materials soil prep and labor with a drip irrigation system installed at planting.
Sun May 05, 2013 11:21 am
Joe Malinowski wrote:Here are a few pictures of the planting process.
Joe, what do they use to control asparagus beetles and when?
Sun May 05, 2013 3:02 pm
My plants are due in, this week, from a grower, near Joe. (Nourse Farms, Strawberry, raspberry, and asparagus plant producer) Hopefully, they will arrive, and get planted, before the rain. Ed
Sun May 05, 2013 7:17 pm
Bob I will find out and let you know about the beetle control.