Saving a Used Throw-Out (Clutch Release) Bearing -

Throw-Out / Clutch Release BearingIf a used throw-out bearing is still pretty much "tight," but sounds noisy or "rattles" when you spin it by hand, it could be saved from further wear by pumping it full of automotive chassis lube. The same can be done to a new bearing to insure that it will last a long time. (I've done this many times when I rebuild clutch assemblies and have never had one complaint!) The fresh grease will help keep the balls within the bearing lubricated and cool, preventing them from further wear. But if the bearing is badly worn or if you're in doubt about doing this, install a new one. (Cub Cadet part # 741-3056)
IMPORTANT! When assembling the clutch components, never install the throw-out bearing on the driveshaft backwards! Install it with the collar (the center part that sticks out) towards the clutch disc.
How To Save A Used Throw-Out Bearing:
1. Needle grease injector attaches to a grease gunChainsaw bar tip grease gun Drill a 3/32" hole in the grease/dust seal on the back side of the bearing.
2. Wash the entire bearing in cleaning solvent until the rollers are free of the drill cuttings and dirt on the inside. It's clean when the sound changes when it's spun by hand and when it spins more freely.
3. Use compressed air to blow dry the entire bearing, including the inside. But don't spin the bearing with the air! Doing this could further damage the bearing!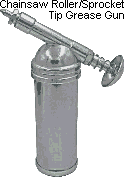 4. Using either a chainsaw bar tip grease gun or a needle grease injector (resembles a hypodermic syringe) that attaches to a grease gun, pump the bearing through the drilled hole until it's full of grease. Turn the bearing 180º and pump it again. It's full when the grease starts to ooze out of the dust seals.
5. Wipe the grease from around the hole with a clean rag and apply a dab of RTV adhesive silicone sealer (clear color) over the hole. The bearing is now good for another 10,000 miles!
The same procedure above can be done to many types of used precision, high-speed sealed roller bearings, besides just throw-out bearings. And for anyone who's ever wondered about this, when the clutch/brake pedal is fully depressed, the throw-out bearing moves back 3/8" on the driveshaft.
By the way - the throw-out bearing used in the model 582 is different than other models. It's an ordinary sealed high speed ball bearing with a sleeve pressed into it. It measures .780" i.d. x 1.850" o.d. x .550" wide. The number is 6204R5 and 180204. These are not Timken numbers. They will need to be cross-referenced.