Mon May 05, 2014 10:54 am
Just got a 53 Super H that had a lousy 12 volt conversion. Replaced the one wire Delco with a Hitachi unit and got it tucked nicely under the hood. It charges great. My question concerns the lights. Any idea where to find 12 volt sealed beams with single screw terminal to replace the 6 volt units? Will the original light switch work with 12 volt bulbs? I assume it has a rheostat to control bright and dim? On Stage II models with the battery box under the seat, how and where did the rear work light mount? Was it a combination tail/work light? Thanks.
Mon May 05, 2014 1:20 pm
Steiner has them. $55.95 each!!!

The switch will work fine as long as you skip over the "low beam" setting. It is not a rheostat, it is a simple resistor that is not designed to handle the current that the 12V lights will draw though the dim side.

If you leave it on low for an extended period, you will end up with Off-High-High and a funny burning smell coming from the electrical box on the steering post.
Mon May 05, 2014 3:09 pm
Don't think I need lights that badly at this time!! I really wish it had been left 6 volt but I see those bulbs aren't cheap either. It was converted when I got it and I had no generator or voltage regulator so I went with a Hitachi alternator I had around the shop.I have seen some aftermarket lights that are teardrop shaped like the older Farmall lights that sell for less than $12 each. Painted red, they might not look too bad. There is a threaded bung on the left rear side of the battery box. Is this where the rear work light mounted?
Thanks,
Festus
Mon May 05, 2014 3:20 pm
Battery is mid-mounted on a Super H (not at the rear like a Cub). I believe the H and SH have a dedicated bracket that mounts on the platform at the rear like this: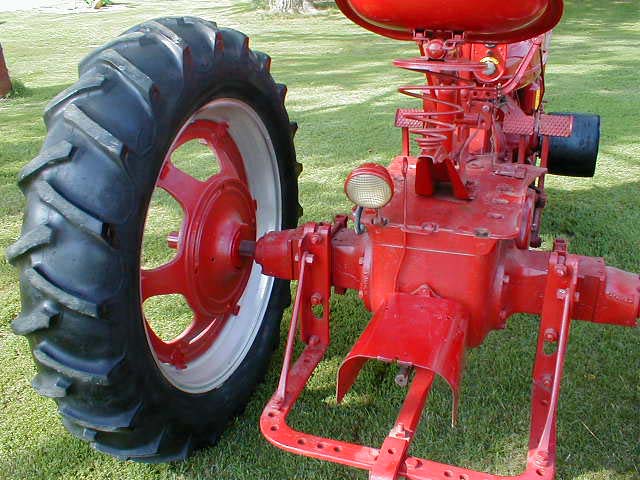 Mon May 05, 2014 7:03 pm
Actually, I think the late 53 and 54 Super H have the battery under the seat. Mine is a 53 by serial number and is set up this way.
Thu May 08, 2014 10:33 am
1. You can make standard 4411 sealed beams (<$10 each) fit the pancake housings with a little finesse.

2. The threaded bung is where the light mounts, yes. You thread a piece of pipe in there and then the light clamps to the pipe.