Fri Nov 06, 2009 12:08 am
Hooked up the bush hog to the H. I really like how it works. Ran in third gear and it sounds like it's not really working. Takes down 2 inch diameter cedar trees without even grunting. I used to use the Allis Chalmers C on this mower and it would only do second gear in light stuff and had to use first for heavier and a small tree would stop it in it's tracks.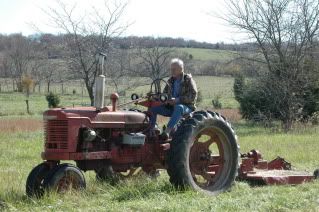 Fri Nov 06, 2009 7:06 am
A H and a bush hog is a great set up.I love my rig.Probally like it more since the tractor has been timed correctly[more power].I used to make a little money cutting grass at the last place.Here where I live now,everybody has that type of stuff.I still used it now and then.Mulching the garden up it works great!!!!Kevin
Fri Nov 06, 2009 9:17 am
A good ol' H.

A theory I heard from an old farmer. He said the Hs and Ms were cheap because there are so many of them around. They were designed and built so well that they won't die.
Fri Nov 06, 2009 5:32 pm
Plenty of power, easy to steer, a nice, nimble size, and comfortable ride. The Farmall H pretty much has it covered.
Fri Nov 06, 2009 8:49 pm
Anyway you slice it, it's just a great tractor.
Sat Nov 07, 2009 9:23 pm
The cedars are probably to big when the tractor runs them down and they pop the brush hog off the ground and then it eats its way back down to the ground. Nothing like looking back and having the brush hog tires spinning in mid air at about a thirty degree up angle on flat ground with a sustantial increase in noise level, cedar chunk dispersal, and cedar aroma (which nicely covers the sudden foul smell from the seat area!). Luckily, no evidence exists; but since everybody likes pictures here's some of my brother aka "Rabbit Holler Flash" cleaning up the field for winter.
Sun Nov 08, 2009 2:41 pm
No evidence heck now i now why the lower field looks like a deranged beaver been workin on them cedars. Ever time i talk to scrivet and he says he spent a little time out at my place cleaning up a little i go home n find something on the H or Bushhog pointing in a different direction than it used to be.But he is a equal oppertunity operator. Ive seen him do stuff with his "side saddle tractor " cub that made me say man that aint right dude. That cub cant do that but it did.