Tue Aug 14, 2007 9:57 am
I don't get Big Mike out very often. Can anyone figure out why?
Tue Aug 14, 2007 10:03 am
I have no clue
Maybe your are to shy to show it without double front wheels...
Tue Aug 14, 2007 10:21 am
I'm thinking along the lines of physics....almost physically impossible to get that tractor through that door.
Tue Aug 14, 2007 11:21 am
That's
one
of my all-time favorites of your collection George
I love those wide front big tractors.
Rick
Tue Aug 14, 2007 3:19 pm
Looks like a tight squeeze there George
Nice H!!!
Tue Aug 14, 2007 10:21 pm
I still like narrow front ends[row crops] easy to disc and cultivate with.Kevin
Thu Aug 16, 2007 9:24 pm
One more thing about the H. I was taking my 7-yr old boy for a ride, I think he was then 6, and I told him it would one day be his tractor. His response, "Can we do it before you die?" From the mouths of babes. I just hugged him and told him it was his.
Thu Aug 16, 2007 11:14 pm
Thanks, Trent. Never been one to be moved by much of anything, but with an 18 month old son those couple sentences really make a big impact.

Dave
Sun Feb 24, 2008 7:54 am
WOW, thats a tight squeeze...
i remember in college my buddy live in a leaning house,, his room, door never would open all the way,( the door opening was leaning also, and would barely open)... we use to laugh, and say:
"if you ever go "hoggin" (looking for fat chicks) he'd need to grease the doors, and throw a twinky on the bed to get her in...
WOOW, she definitily NOT between the ROPES!!
sweet tractor!! i may do the same for this years plowing,, does it work well.. jc
Sun Feb 24, 2008 9:44 am
I'm not a member of the Farmall H club, but my Super M keeps order in the barn. It doesn't get out very often, either.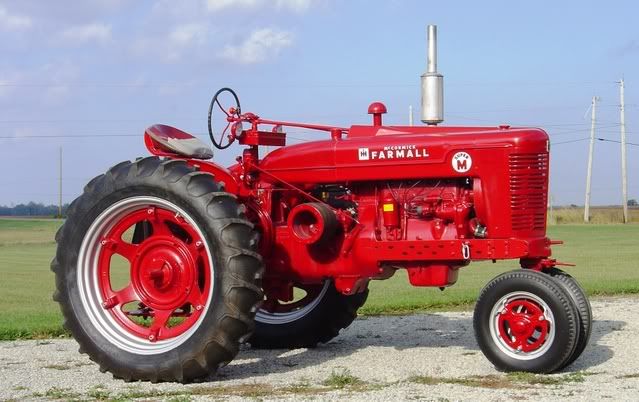 Last edited by Denny Clayton on Sun Feb 24, 2008 12:32 pm, edited 1 time in total.
Sun Feb 24, 2008 9:45 am
Denny: That is a beautiful tractor. Dan
Sun Feb 24, 2008 10:26 am
Nice looking bunch of rigs. My friend just got his brother's H, SN 1XXX, so its pretty early. Originally kerosene powered, PO had converted it to straight gas. Neat tractor.
Sun Feb 24, 2008 10:44 am
Grandpa put himself in the H club last fall. Neighbor need to sell one, shot him a good price and I drove it to the farm. Now Grandpa has spent the purchase price again on fixing it up. It is still not painted, and needs a battery box, but it is almost ready for all that.