Sat Mar 05, 2011 11:00 pm
Just got this the first of the week and hope to use it to move my homemade dirt from the other place to the gardens here.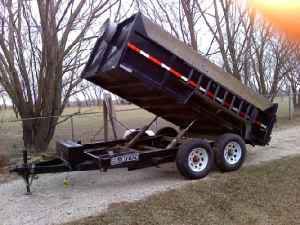 Had to make a 100 mile road trip to get it and I am still down from the trip,---ole body not been good all winter,----down most of the time. thanks; sonny
Sat Mar 05, 2011 11:25 pm
Very nice, we have one at the shop.
I was going to use it as a seating area to watch a parade one day. As I started letting the trailer down on my hitch it kept going and going until the jack ran out and my truck couldn't come near handling the weight...
Takes a good size truck to tote one of those...
Sun Mar 06, 2011 12:55 pm
I have the 94 GMC 1-ton dual wheel truck to pull this one with and it will easily pull/haul/dump 5.5 ton loads and never break a sweat. ---It is ultra light empty, giving a good payload. thanks; sonny
Sun Mar 06, 2011 2:46 pm
Looks like one heavy duty trailer. Looks good.
Fri Mar 11, 2011 11:20 pm
Nice trailer. I give up, Whats the thing on the front? Silver lookin thing. Grump
Tue Mar 15, 2011 8:02 pm
Grumpy!!!---That silver lookin thing on the front is the spare rim,---former owner never did have a tire put on it!---I will take it off,--dont need to haul the extra weight around!---the loading ramps will also be left in the shed unless I need them,--they too are kinda heavy,--used them last night to load tractors with and these things are heavy!!!!---They have a rack on each side to ride in! thanks; sonny