Forum rules
All photos must be your personal photos (no copyrighted material).
FarmallCub.Com forum upload attachment requirements:
Maximum attached file size:
512kb
Maximum dimension:
Unlimited
(as long as the file is less than 512kb)
Preferred photo attachments are via direct upload in post, and/or the CubFest Photo Server.
Commercial Photo hosting services will work, however, if the image links become broken due to discontinued service or deletion of the images, the posting will be marked for removal.
Mon Mar 19, 2012 8:22 pm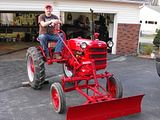 Mon Mar 19, 2012 9:52 pm
Nice job Dave! We gotta get some bigger pics on here though!
Mon Mar 19, 2012 10:26 pm
This may be better... Very nice tractor!
Tue Mar 20, 2012 5:14 am
Real sharp David, super bright, that should turn a few heads.
Tue Mar 20, 2012 6:51 am
Nice looking Cub.
Tue Mar 20, 2012 7:20 am
Very nice....I like the black muffler. Goes good with the lights and tires.
Tue Mar 20, 2012 7:39 am
Good job!
Tue Apr 03, 2012 4:27 pm
Man! That's so slick, dirt won't stick! Nice!
Tue Apr 03, 2012 6:44 pm
i don't believe i have ever seen the sustitute drawbar attatched when the blade is front mount, very convenient
Tue Apr 03, 2012 7:28 pm
WOW!! Nice job!!