Mon Jun 17, 2013 8:53 pm
Anyone here have experience with a Land Scraper Tumble Bug? There is one for sale locally and I'm thinking about buying it. Why, I don't know but I think I could find a use for it. Do you think a Cub would pull it??
http://www.youtube.com/watch?v=qh54vkmN ... ata_player
Mon Jun 17, 2013 9:18 pm
I doubt a cub would pull the one in the video. It's 5 ft wide
I'd like to see you prove me wrong though!
I wish I had one. Thanks for posting the video. First time I've ever seen one in operation
Mon Jun 17, 2013 10:37 pm
Down here in Oklahoma, these were called fresnos. Me and dad dug a pond with one of them pulled behind a 8N. They work real good but you have to be strong enough to lift the handle when its full.
Tue Jun 18, 2013 4:56 am
I've pulled some pretty good loads with a mud, rock filled York rake of late....My guess is it would pull it....Keeping the front end controllable might be an issue...Cool rig....Thanks for the vid...
Tue Jun 18, 2013 5:07 am
Dad used one back in the 50's with an F-20 to move dirt around the new house. I also doubt the Cub would do much with it, but possibly a little at a time.
Tue Jun 18, 2013 8:36 pm
Well, I bought it today. To answer my own question,
"Do you think a Cub would pull it??"
, well that would be a
NO
. It would be like dropping an anchor behind the Cub. However, my John Deere B will handle it. I may never use it but I've never seen one for sale before so I thought, what the heck. It came with a 3 pt. slip scraper thrown in with the deal so after a little work on the slip scraper, I'll try to sell it and get some of my investment back. It's just something else to play with.
Tue Jun 18, 2013 8:44 pm
Too much weight with gravel kicking in at 150 pounds per square foot plus ground friction added. That is a huge drag on the Cub. Pretty cool tumble bug...have fun with it! The Stockland dirt scoop is more up the Cubs alley. Thanks for posting, fun to see other cool stuff
Tue Jun 18, 2013 8:46 pm
Nice snag! I like it. Send it on my way when you get tired of playing with it!
Wed Jun 19, 2013 6:19 am
We had one. Used it behind our JD "B" to dig trench silos and irragation ponds before we bought the dozer.
Sort of like loading a dump truck with a shovel, slow, but it did the job.
Wed Jun 19, 2013 6:37 am
I have never seen one, until now. Thanks for the video.
Wed Jun 19, 2013 6:53 am
What is a "slip scraper", never heard the term before.
Wed Jun 19, 2013 7:22 am
danovercash wrote:What is a "slip scraper", never heard the term before.
Hopefully someone will have a picture but think of a scoop about two feet wide maybe 18 inches deep and a couple of feet long. It had two handles extended to the rear for the operator. It was pulled either by a tractor or was around far enough beck that horses were used. By tipping the handles slightly upward the scoop would fill. By then pressing down the load could be moved. Lifting dumped the load. Dad had one and used it to dig a basement but I would have been a toddler so I can't say I ever saw it being used. A hole dug this way would look more like a pond and the backfill must have been extensive. Vern
Wed Jun 19, 2013 7:43 am
Around here, up until the 1930's, slips and fresnoes were used on a regular basis for dirt work. They were used in the oil fields to build the retaining walls around storage tanks, etc. Before the county had regular workers, all work was done by the men that lived in the precinct. By law, all able bodied men were required to donate a days labor for road work. Only the road commissioner was a paid employee. The county owned the equipment. Used a big turning plow to "pull the ditches up". Times have changed.
Wed Jun 19, 2013 8:32 am
Hey, I have one of those! Dad always called it a drag pan. No telling how old it is, made some new handles a few years ago. Need to use it now, but Ethan is not old enough to drive the cub. Alternately we are using shovels and wheelbarrows. Needs new wear bars on bottom and rust thru repaired. It was abused by an M Farmall back in the early '60's digging a grave for a dead cow. Bail and scoop both warped. I can take pix with I-phone, but have not learned how to size them for Photohost.
Wed Jun 19, 2013 11:07 am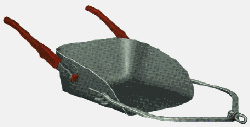 Google has pictures of several models of slip scrapers. This is the one I remember. Vern