Sat May 18, 2013 8:39 pm
Can someone post some pics of a plain 184?
Sat May 18, 2013 9:35 pm
When we had the Cole f/h planter it was man-handeled on.
Sat May 18, 2013 9:56 pm
I have some some where I will look
Sat May 18, 2013 10:03 pm
Sat May 18, 2013 10:09 pm
Sat May 18, 2013 10:22 pm
That one appears to have the long shaft on the planter also. I need to look and see on mine at the back of the runner how the fertilizer tube mounts of it looks homemade. Guess I'll jerk it apart if we are sure they never made 1 rows with fertilize hoppers. The multi row planters in the 184 manual don't show a rear bracket like this one.
Sun May 19, 2013 9:55 am
I put these pictures (normal FH planter vs yours) side by side as a comparison. It sure looks to me like the ferilizer setup was added after the fact. The runners look a little different at the rear portion (the standard FH planter runner appears to be worn out), but the shaft on the planter looks like it is long enough to have a gear installed and drilled for a pin to drive the fertilizer hopper. I agree with the previous post though, I think the drive wheel would be slipping ALOT with this configuration. Normally only the planter is driven from the ground wheel. If fertilizer units are used in combination, they are normally driven from a different system (either PTO or a rubber ground driven wheel)

EDIT: After looking closely at the picture Rudi posted, it sure appears that all this stuff is driven from the planter ground wheel......Go figure.
Sun May 19, 2013 10:01 pm
You guys were right,I removed the fertilize setup today looks a lot better and I have lots more spare parts now. It really falls over now, before it stood up good I guess the extra weight on the back wheel. Still would like to know what those little rods are for?
Sun May 19, 2013 11:29 pm
Brandon Webb wrote: Still would like to know what those little rods are for?
TV Antenna?
Mon May 20, 2013 3:38 am
Here is a photo of my 184. Yes it will tip over unless you lean it up against something. The drive shaft for the planter does extend out and mine has a hole in it like you could maybe add a gear. Mine does not have a fertilizer unit.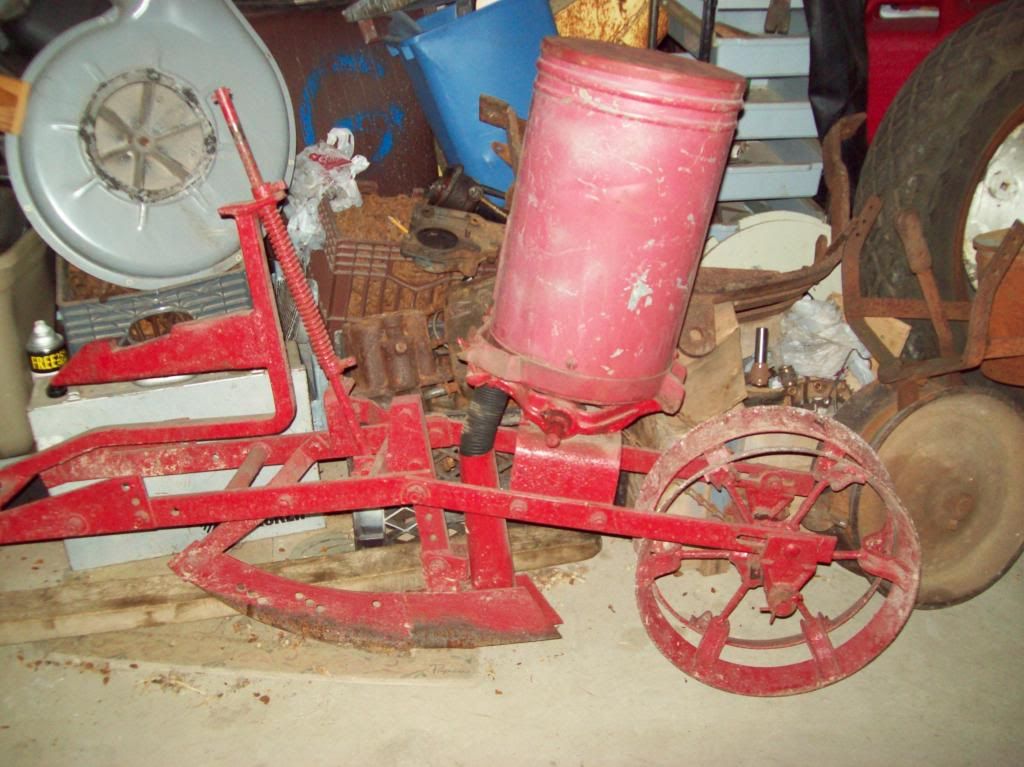 Mon May 20, 2013 7:33 am
So are the swords for these planters still available? I really like the simplicity of these planters. I like my runner planters for the cool factor but the 184's would be easier to put on. I've found it's hard to tie up cubs for planting in the spring when dad's wanting to put sickle mowers on to mow fences and road sides. I'd be nice to have more cubs.
Mon May 20, 2013 7:45 am
I really don't know what I'm talking about but while doing some searching for 1 row planters for my husband, I just came across this.
http://www.ebay.com/itm/JOHN-DEERE-ERTL ... 1c32e3abb6
It's not identical to yours but maybe they are row markers?
Mon May 20, 2013 4:54 pm
Brandon:
I have seen replacement swords on Ebay. I used my 184 this year and really liked it ,easy on and off. There was a learning curve, I discovered that I needed to put more downward pressure to get the right depth and to make the wheel turn.
Mon May 20, 2013 7:04 pm
Clint Carter has made some swords, but I don't know if they will fit this model planter.

Bob
Fri May 24, 2013 4:05 am
I was looking for something in the 184 manual last night and under the special equipment section and it sez that the 20" presser wheel provided additional traction for driving the fertilizer unit. So maybe it did have and optional fertilizer unit?

Kirk