Mon Apr 01, 2013 11:00 am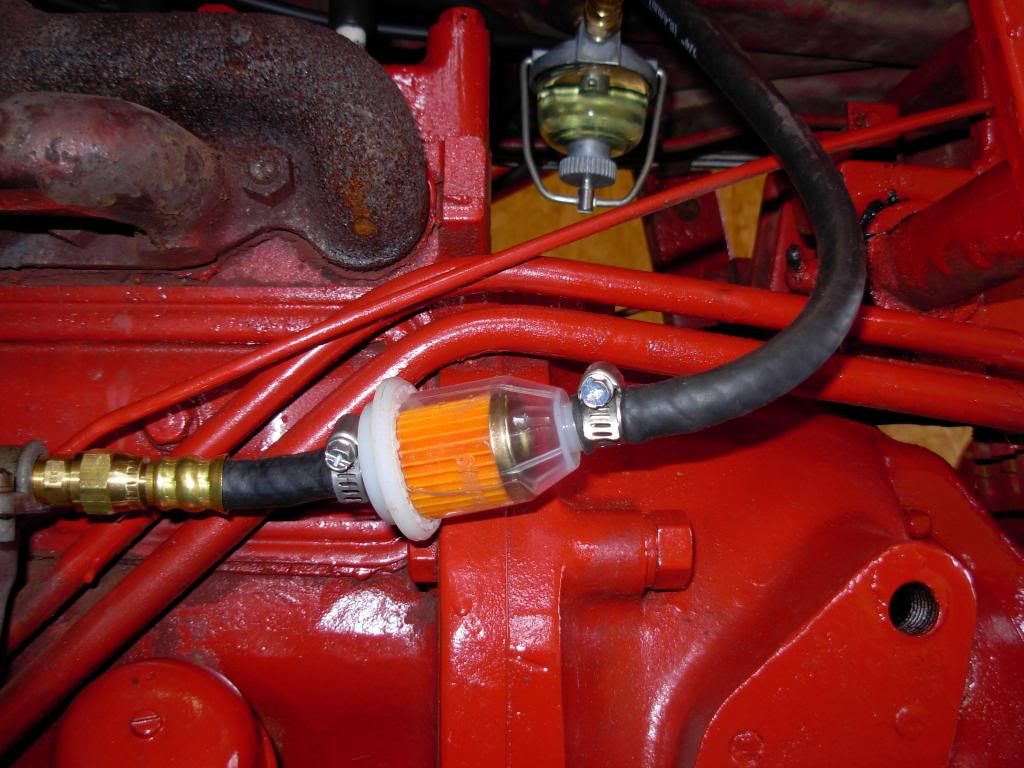 Why won't this work? New sediment bowl screen is clean. But it won't keep the inline filter full of fuel. Should I put the old brass line back on?
Mon Apr 01, 2013 11:35 am
Most of those in-line filters never actually stay full of fuel. However, it should not empty either. I've never seen that exact same one, but if the tractor runs with it installed, then don't worry aobut it. If it won't run, then take it out. There's really no need for another filter in-line like that.
Mon Apr 01, 2013 12:33 pm
I put the brass line back on and still doing same thing. The other thing I noticed is when I push clutch down it wants to stall. Could there be something blocking fuel abve sediment bowel. The tank looks clean and fresh gas.
Mon Apr 01, 2013 12:51 pm
Pushing the clutch down actually puts more strain on the engine, which is why you often see it recommended to shift the tractor to neutral and release the pedal before starting, especially in cold weather. Sounds like you need a tune-up, or at a minimum, to speed up the idle RPMs a bit so the tractor is not idling so slowly. Doesn't necessarily have anything to do with the fuel line.
Mon Apr 01, 2013 1:24 pm
It has everything new in it. The only thing I can think of is. When I put new wires and Dist. cap on. The brass ends didn't want to go all the way in the cap. Like I thought they should have. I got the cap and wires from the case dealer.
Mon Apr 01, 2013 2:39 pm
I would take the fuel filter out. As stated above, you really do not need it.
Mon Apr 01, 2013 3:18 pm
I have the same exact fuel filter setup on mine. It does exactly like you described, also. After seeing everything it catches that got by the screen in my sediment bowl, no way I'll run without it. I just picked up a small lawnmower fuel shutoff valve to go in between the filter and carb. That way when I start up it'll be full. Ran it Saturday and didn't have any big problems after I started getting fuel trickling into the filter. Running a full tank helps. If it possibly helps and can't hurt, why not keep it on? Cheap insurance to keep from having to pull and clean the carb when you need to be in the seat working.
Mon Apr 01, 2013 3:32 pm
torchred89 wrote:I put the brass line back on and still doing same thing.
Explain what your tractor is doing.
If you want the inline fuel filter to fill completely - place it in the fuel hose so that the filter is vertical - up and down. This will let the air trapped in the filter escape into the fuel tank.
What ever your tractor's problem, it's probably not the fuel flow. The engine only consumes about 3/4 to 1 gallon per hour under heavy load.
Mon Apr 01, 2013 5:30 pm
That is the same fuel filter that I use and I use the bowl too, never had a problem
Mon Apr 01, 2013 8:30 pm
I stopped using those sediments bowls completely and put a low volume Harley Davidson fuel filter on mine. I know that I just crossed the line. Sorry guys but it was the best thing I've done. Funny thing was I couldn't get my latest Cub to start Saturday...then I figured out it has a sediment bowl and the fuel was off.
Tue Apr 02, 2013 8:23 am
Sediment bowls look original however, my 76 year old hands like the in-line filter and the Briggs & Stratton LITTLE RED SHUT-OFF VALVE from ACE Hardware I placed in the line also. This prevents me from dealing with a leaky sediment bowl gasket, broken glass sediment bowl, distorted bale, and the possibility of sticking my hand under the tank and behold a hungry snake is coiled under theren just waiting for breakfast! I have skinned my hand too many times turning fuel on-off at the sediment bowl especially on my Cub with duplex planter and fertilizer installed. Inovation, imagination LEARNING FROM OTHER'S EXPERIENCES sure makes sense to me.
Chet
Tue Apr 02, 2013 8:48 am
The sediment bowl is a water trap as much as a trash collector. (Helpful with ethanol fuels)
Vertical orientation of the filter does help get the air bubbles out and also helps move the fuel through the filter. I put my filter close to the tank.
I do like the idea of the shutoff valve near the carb. Might borrow that idea (sorry correct police)
Tue Apr 02, 2013 9:05 am
This filtration modification is from a previous filtering discussion, works well, is inexpensive, and leaves your tractor with the appearance of being un-touched.
viewtopic.php?f=139&t=74909