Wed Nov 21, 2012 8:08 pm
i had to take the pulley off the center spindle and forgot that the center sheave is split, are these still available?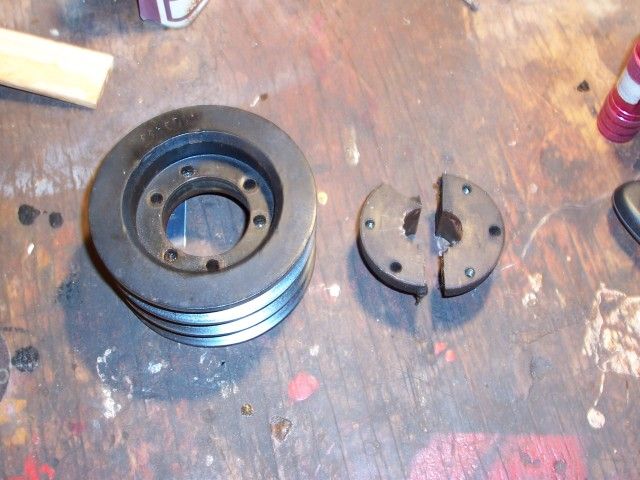 Wed Nov 21, 2012 8:27 pm
Hi Rob, yes they are available through the dealers, also I see Hamiliton Bob now has repops for these
Tim
Wed Nov 21, 2012 9:27 pm
thanks tim, now my next question,the reason why i took it off was because of the bearings have gone bad, would anyone have the numbers for the bearings and seals?
Wed Nov 21, 2012 9:56 pm
BOB IN N.H.

WHEN YOU START TO PUT IT BASK TOGETHER BE SURE THE TOP SEAL HOLDS
GREASE IN BOTTOM SEAL HOLDS DIRT OUT AND LETS GREASE OUT--------FILL IT
FULL OF GREASE WHEN PUTTING IT BACK-------WITH ONLY ONE GREASE FITTING
TO WORK GREASE THROUGH TO BOTTOM BEARING-----YOU CAN STILL USE THE
SPLIT HUB AS LONG AS YOU HAVE A BOLT IN EACH PEACE----


GOOD LUCK
LOMBARD----SC---
MY $0.08---
Wed Nov 21, 2012 11:02 pm
You may be able to cross the bearings with the IH part numbers. I would guess that they are Timken tapered roller bearings with CR or National seals. The numbers may be on the parts.
Or just call C&G.
http://partstore.caseih.com/us/parts-se ... :mr02-1092
Wed Nov 21, 2012 11:06 pm
Looks like my favorite parts guy already answered the question.... (found it searching for the IH seal part number)
viewtopic.php?f=1&t=16239
Wed Nov 21, 2012 11:09 pm
thanks larry, thats what i needed