Moderator: Team Cub
Forum rules
Notice: For sale and wanted posts are not allowed in this forum. Please use our free
classifieds
or one of our site sponsors for your tractor and parts needs.
Boss Hog

Cub Pro

Posts: 10239
Joined: Mon Oct 24, 2005 8:35 pm
Zip Code: 23962
eBay ID: dmb2613
Circle of Safety: Y
Location: VA. Randolph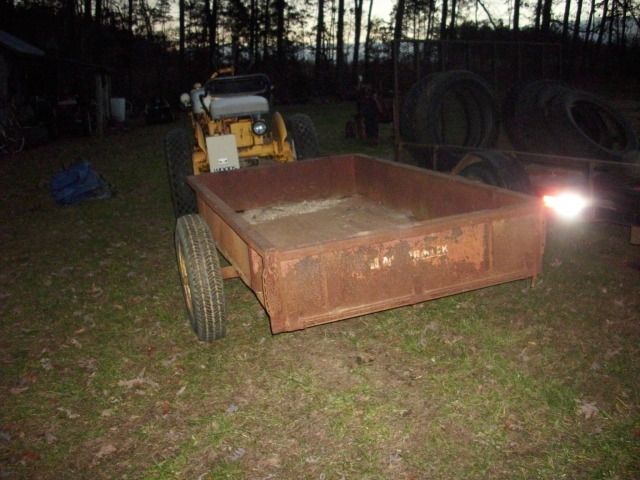 Boss
IN GOD WE TRUST
All others pay cash
Boss Hog
Power corrupts; absolute power corrupts absolutely
byJohn Emerich Edward Dalberg
---
Yogie

Cub Pro

Posts: 5138
Joined: Sat Sep 08, 2007 3:49 pm
Zip Code: 25271
eBay ID: yogiefisher
Tractors Owned: 37 John Deere A
63 Farmall Cub
53 Farmall Cub
Circle of Safety: Y
Location: WV. Ripley
Looking good Boss, I also think that your starting to like that little low boy.

Democracy is two wolves and a lamb voting on what to have for lunch. Liberty is a well-armed lamb contesting the vote.
Ben Franklin
---
Chris D

5+ Years

Posts: 398
Joined: Tue Nov 30, 2010 7:54 pm
Zip Code: 23027
Circle of Safety: Y
I hope you get good use out of it Boss. Sure couldn't ask for a better home than down at the Waller!
---
redfin

Cub Pro

Posts: 4214
Joined: Mon Dec 17, 2007 6:25 pm
Zip Code: 70737
Circle of Safety: Y
Location: LA, Gonzales
Nice looking trailer Boss , appears to be in pretty good condition.
---
oronc

10+ Years

Posts: 643
Joined: Thu Jan 19, 2006 11:37 am
Zip Code: 24153
Tractors Owned: 1950 Allis Chalmers B, 1942 Farmall H,Kubota B2150hst
48 Cubplow,cultiv,carry all,blade.other stuff
and other junk
Location: SALEM VA.
Boss, Looking at those tires on the trailer ya wouldn't happen to have a 12.4X38
---
Buzzard Wing

Cub Pro

Posts: 10507
Joined: Mon Aug 09, 2004 10:14 pm
Zip Code: 02840
Location: RI, Newport
Sure does!
1971 Cub (Rufus) 1950 Cub (Cathy) 1965 Lo Boy Fast Hitch (Nameless III) 1970 Cub 1000 Loader & Fast Hitch (Lee)
---
---
Who is online
Users browsing this forum: Glen and 6 guests