Moderator: Team Cub
Forum rules
Notice: For sale and wanted posts are not allowed in this forum. Please use our free
classifieds
or one of our site sponsors for your tractor and parts needs.
challenger

5+ Years

Posts: 1087
Joined: Sun Apr 18, 2010 6:22 am
Zip Code: 21742
Tractors Owned: 1955 F Cub (2)
1952 F Cub
1948 F Cub
2155 JD
216 JD
Circle of Safety: Y
Location: Hagerstown MD
You say things are totally dead. Let's start by checking to see if you have generator output. Take a short jumper wire with allegator clips on both ends and attach one end to the field terminal on the generator and the other to a good clean part of the generator body. With the engine at half throttle, you should have 10 plus amps showing on your ammeter. If you do not there is a problem with the generator or, possibly, your wiring harness or terminals. Check this out and report back on what you find.
---
bythepond88

10+ Years

Posts: 1421
Joined: Sun Apr 30, 2006 2:54 pm
Zip Code: 60073
Circle of Safety: Y
Location: IL, Round Lake Heights
You should start trouble shooting from the beginning; here is a chart that I believe was put together by FarmallBob.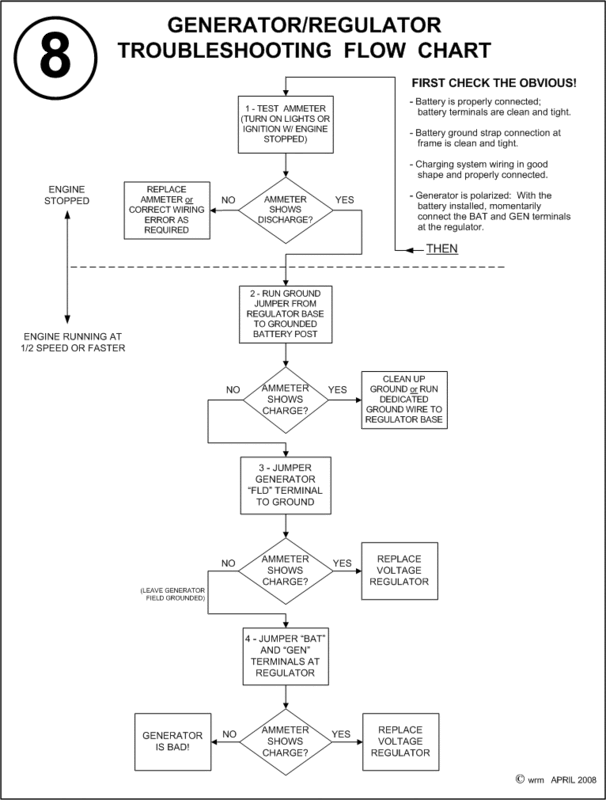 Michael Cummings
Eddie - a 1959 International Lo-Boy named after my father in law, who who bought her new.
---
Machineryman

10+ Years

Posts: 8
Joined: Tue May 29, 2007 7:05 pm
---
---
Similar Topics

Replies
Views

Last post
Who is online
Users browsing this forum: balloonatic5, Ken (48 Cub), rockfarmer and 7 guests