Mon Apr 11, 2011 9:06 pm
When I ran the woods 42 without the over-running clutch, I left my belt a little loose, but added a week tensioner pulley to take up the belt slap. This allowed the belt to slip if I had to apply hard brake.

bythepond--The woods 59 has 3 blades, 3 spindles which are not heavy and are easily stopped.

The single spindle, 2 swinging blade 42" mowers are heavier and work partly off centrifugal force. thus the Push you get without the over-running clutch

Dale
Mon Apr 11, 2011 10:00 pm
Larry:
This looks awful familiar: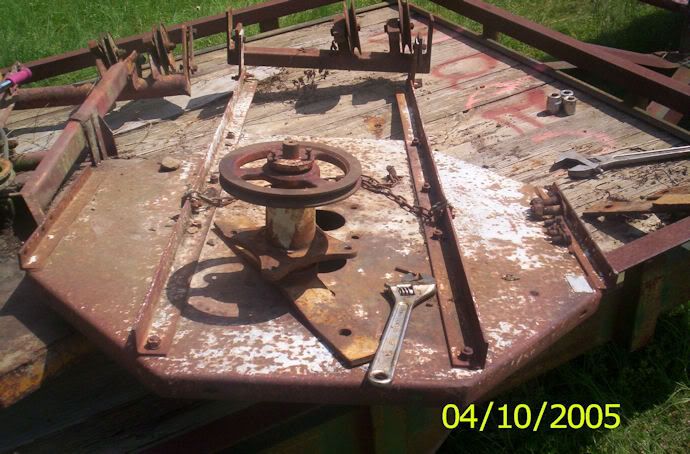 Gotta go check my C-2 pulley tomorrow.
Mon Apr 11, 2011 11:34 pm
Gator, Boss Hog told me pretty much the same thing. I have done a lot of mowing with a C-2, so I do know it can take quite a while for it wind down. Pretty fair amount of power rotating when you are cutting.
Rudi, yours is right..... looked like this before I loaded it up... One bolt is all that holds it on, easy enough to take a look see. I used grease to keep the spring/pins in place putting the last one back on (it's tougher on a fast hitch one). You even have decent side guards.... I could have used em on that rusty one.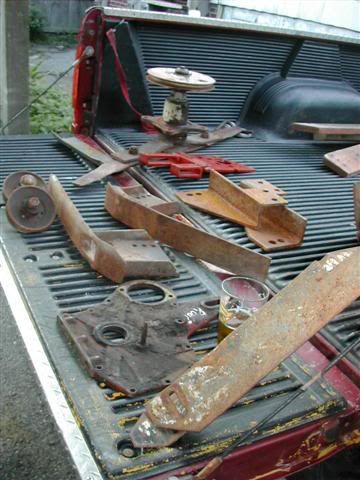 Looks like one of your skids is a 'leaf spring' repair. I expect to hear tales of you out in the willy-whacks cutting brush this summer.
Tue Apr 12, 2011 7:24 am
Larry:
One can only hope
You are right, one of the skids is a leaf spring repair which is why I am looking for replacement skids. The lo-boy brackets are clearly visible in the pic.... still trying to find a lo-boy to mate with the brackets.
Tue Apr 12, 2011 4:01 pm
Thanks for the explanation, Dale. I wondered if the three spindles made a difference.
Tue Apr 12, 2011 8:30 pm
Thanks for posting the pictures Larry. As you already know I bought this mower about 15 years ago and have not used it so there is no big rush to use it now. I will clean it up and be on the look for parts to fix it correctly. Just got a chance to look at this months Farmers Bulletin and there is a ad for a cub belly mower for parts. Maybe if it has not sold it will be what I need. Thanks everyone.
Tue Apr 12, 2011 11:27 pm
Glad to help out Michael. I do have a 'spare' spindle but it's not usable (the pins are stuck, as you can see from one of the pictures) and I may eventually rebuild it. You will find what you need. Keep your eyes out for the skids too. I do have the old ones off mine, close to needing the leaf spring mod. Sometimes my 'foolish' buys on ebay come in handy (the spindle and the skids).

Rudi, nothing wrong with the leaf spring... actually better because it doesn't hold water like the originals. They are not meant to run on the ground, but to keep the blades out of the dirt on uneven terrain. Also you will never wear it out.
Sun Aug 07, 2011 9:39 pm
Forgive me for bringing up an 4 month old post. I have a Danco C2 belly mower that has a problem. The PO had put a piece of key stock in the pulley and it gave up, I realize that this was something that was rigged to make the mower work for them. From what I have read it is not supposed to have key stock in the pulley or is it? I am attemting to pull the pulley,however it will not come off as easily as I hoped. It will come up 1/2 of an inch or so by hand then stop. It does have the over running clutch but I have only one pin operating of the four. I put a three jaw puller on it but it is being stubborn and do not want to bend or break anything
Thanks Bill
Mon Aug 08, 2011 8:16 am
Not sure where the key is on yours? There is a collar (the 'shiny' part, hub in the parts list) that the pulley should spin free on, it engages using the pin/springs. The hub is keyed. The 'cap' has a rolled pin that fits the spindle keyway.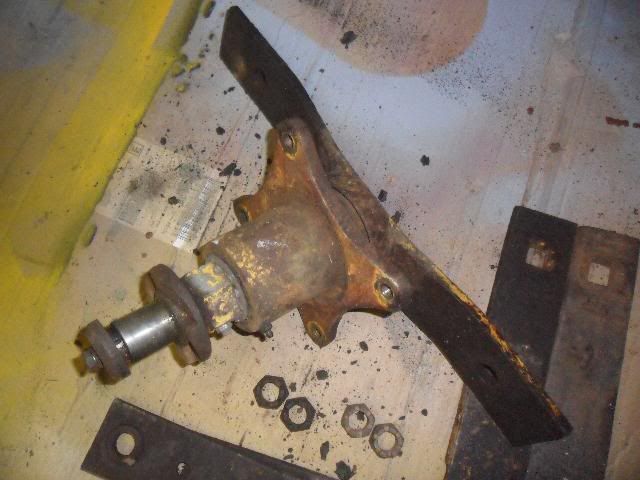 http://messicks.com/nhparts/Case/4281.aspx
Mon Aug 08, 2011 11:29 am
Bill, I rebuilt a spindle that had 3 pins stuck. I couldn't get a hold of them. What I did was to drill a 1/8" hole on the opposite side and knock them out with a small punch. I then filled the holes with JB Weld.

Bob
Mon Aug 08, 2011 5:57 pm
I know what that looks like Bob! If I ever get around to it, it's going to Alabama with the rest of the overrunning clutch stuff.... I think Mr Beck will need to use your trick, them things are some stuck! It was pure luck that I had bought a spindle on ebay. I know how hard to find some of that stuff is and probably paid what the two 7/8 carriage bolts cost. But if you are in a jam, most everything is still available from a dealer.
Mon Aug 08, 2011 7:27 pm
Want to thank you both for your input. After looking at the parts break down I felt more confident pulling the pulley and got it off. Now I see what is going on in there. The PO had cut a slot out of the hub and put a piece of key stock there to line up with the keyed shaft, why I do not know. Three pins are stuck but managed to get one free, the other two may require Bob's trick to get them out. I have them soaking in PB overnight so we will see. This assembly did not have a cap on it, I suspect this is important as to keep the pulley from riding up. Can one be fabricated out of a washer or plate? Also what is the purpose of the roll pin in the pulley? Bill
Mon Aug 08, 2011 9:08 pm
The 'hub' should be keyed, it should spin with the spindle. The pulley just rides on the outside surface of it (may be a bushing in there??) and the pins are what engage the spindle and ride up the slopes as the spindle spins down. The cap just keeps the pulley from coming off, probably a washer would work OK.

I tried to get the yeller pulley pins free with Kroil and 3 pins are stuck good, but I quit trying because I had a good one. Patience and a brass punch may work for you.... after all there are springs in there. Bob's method would be a lot quicker. I think nobody pays any attention to them till they don't work right, oil and grease are cheap.

Lux, the one I have been working on was on a 64 and was originally yellow. It's still yellow. All the others I have seen are white, but they are all essentially the same.
Mon Aug 08, 2011 9:35 pm
Thanks Buzzard Wing that clears up alot of it for me. It looks like the hub was cut out by someone other than the factory as it is uneven. There is a bushing in the pulley and looks ok. I will get it greased up well when reassemballing. This thing turned out to be so simple it was confusing me
Bill
Tue Aug 09, 2011 5:40 pm
No problem, glad I could help.