Mon Aug 13, 2007 7:19 pm
Leave the tractor the way it is
Paint the shed
Sun Aug 18, 2013 11:19 pm
Well, here we are 6 years (and a lot of life) later. My Dad is now retired and I'm happy to report that my Great Aunt and Uncle's Cub is in the process of being painted right now. As stated earlier in this thread, the motor has been rebuilt, I rebuilt the TC and pump, replaced the welded front spindles, rebuilt the steering housing, had the original IH carb refurbished and rebuilt, and had the generator rebuilt and got it charging, plus some other stuff I'm sure. This has all been finished for a few years. I've received the original-style decal kit from TM with the "McCormick-Deering" hood decal. I'll give it a complete fresh tune-up as well. The plow has already been painted and it will soon be ready to make the trip to Aunt Betty's house for her to see! I'll be sure to post some pics!

P.S. I couldn't have done this without all the help I received from the fine members of this forum. I started as a complete newby on here and I learned SO MUCH from you guys. I'll never be able to thank you all enough!!
Mon Aug 19, 2013 12:12 am
Good to see you around again Trent! Keep is up to date on the Cub!
I'm sure you have this one in the Database already?
Mon Aug 19, 2013 6:21 am
Trent, good to see you posting again.
Mon Aug 19, 2013 6:34 am
Great Story....Dave
Mon Aug 19, 2013 5:52 pm
Trent:
Good to see you on the forum again and glad to see all are fine. Will be looking forward to pics when you get around to em..
Sat May 03, 2014 8:56 pm
Well, this tractor has been painted since fall. Sorry about just now getting around to posting a pic. Also, sorry about the shadows, the barn dust, and the mud on the tires. We've been using it, but haven't scratched it up too bad ... yet.
P.S. Raymond ... this was one of the first tractors in the Database.
The very first tractor in the database actually.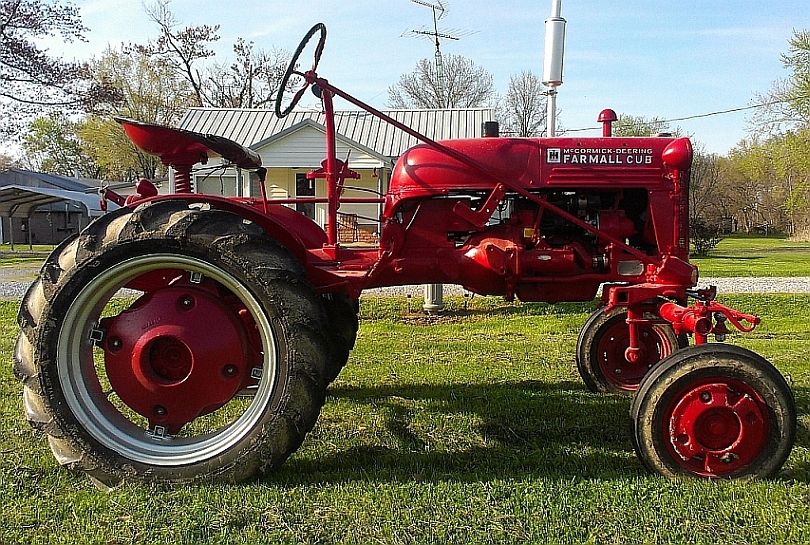 Sun May 04, 2014 8:45 pm
Can you see the pic now?
Sun May 04, 2014 9:11 pm
Trent M wrote:Can you see the pic now?
Yes, sir.
Bill
Mon May 05, 2014 7:44 pm
Just take the hood off. Everything else seems to follow. Don't ask.
Mon May 05, 2014 10:51 pm
trent , with that provenance , what ever it takes , is justified . too often we lose track of what is important in life , the connections to our ancestors (especially family) . coppersmythe............................................................